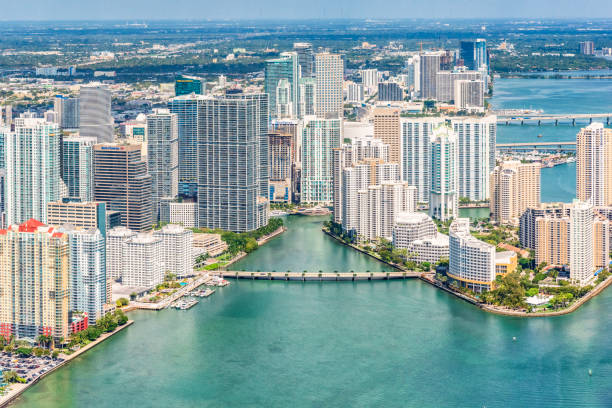 South Florida's housing market is firing on all cylinders, with home prices skyrocketing to new lengths!
Finding available properties feels like a treasure hunt nowadays!
Not to worry, though, as we're going to reveal the secrets behind this success!
If you're curious to find out more, keep on reading as we dive into the predictions and hottest trends of the hottest real estate market in the US right now.
Miami Real Estate Market – Trends & Prices
Brace yourself because home prices are on the rise, and the inventory is seriously scarce. It's like a dream come true for sellers, as they're scoring top dollar for their properties.
Wanna know why?
Well, it's all thanks to the influx of people and businesses from high-tax, high-density areas in the US. South Florida's no-income-tax and pro-business environment is attracting them like a magnet.
However, that's just the tip of the iceberg!
The state's property market is also getting a boost from an increase in foreign buyers. It's quite the happening place!
Miami is the seventh-largest in the entire United States and ranks as the 72nd-largest worldwide. This metropolitan gem encompasses not only the City of Miami, which is the beating heart of finance and culture, but also the vibrant counties of Miami-Dade, Broward, and Palm Beach. What is more, these three counties are actually the most populous ones in the entire state of Florida.
That's quite impressive, isn't it?
And here's an interesting tidbit: Greater Miami extends even further, encompassing an expansive region known as the Miami-Port St. Lucie-Fort Lauderdale Combined Statistical Area, as defined by the United States Census Bureau. It's a truly remarkable and diverse area to explore!
In the Miami-Fort Lauderdale-West Palm Beach Metro area, the average value of homes currently stands at a remarkable $445,114. Hold on to your hats because here's the exciting part: home values in this thriving metro have witnessed an impressive surge of 13.5% over the past year.
And guess what? According to the experts at Zillow, they predict a further 2.0% rise in home values over the next twelve months. It's an exciting time for homeowners and potential buyers alike in this dynamic real estate market!
Miami Real Estate Forecast
Even with persistently high interest rates, the Miami real estate market stands tall and resilient. A recent report from Goldman Sachs analysts highlights that the Miami metropolitan region is expected to shine among major housing markets, avoiding a decline in house prices in 2023.
In fact, Goldman Sachs predicts a modest upward trajectory for Miami's home prices by the year's end, making it one of the select few markets to experience an uplifting trend. Amidst the odds, Miami proves its strength and holds its ground as a promising real estate destination.
2022 proved to be a remarkable year for the Miami-Dade County real estate market. According to the MIAMI Association of Realtors, a total of 31,627 homes and 19,377 condos were successfully sold, securing the second-highest sales figures in Miami's history.
Even with the upward trajectory of mortgage rates throughout the year, Miami's real estate market displayed unwavering resilience and unwavering demand. Starting at a modest 3% in 2022, the 30-year fixed mortgage rate has now reached 6.11%. Despite the challenges, Miami's real estate scene remains a force to be reckoned with.
According to market research done by Blackbook Properties, the impact of inflation is anticipated to drive a decline in mortgage rates to a range of 5% – 5.5% by the close of 2023.
This potential reduction could potentially breathe new life into the housing market, leading to increased activity during the latter part of the year. While there has been a general increase in overall inventory, it's important to note that the majority of this growth is concentrated within the luxury segment of the market.
On the flip side, there remains a shortage of available properties within the price range of $400K to $600K. The evolving dynamics of the market present both opportunities and challenges for buyers and sellers alike.
Investing in Real Estate – Is Miami Worth It?
Timing is key when it comes to successful real estate investing, regardless of whether you're considering Miami or any other location worldwide. Deciphering the optimal moment to enter the market can pose a challenge.
Therefore, it's natural for many real estate investors to wonder if buying property in Miami is a wise investment choice. In fact, many are opting for a luxurious St. Regis Sunny Isles condo.
While Miami is renowned as a tourist destination and occasionally garners attention during hurricane seasons, it offers much more. It is a thriving, expansive city offering a range of opportunities.
The city itself boasts a population of nearly half a million people, but the Miami housing market extends far beyond, encompassing a substantial area in southeast Florida and accommodating over five million individuals.
As a result, Miami's real estate market ranks as the seventh-largest in the United States and holds the distinction of being the second-largest in the southeastern region.
The robustness of the Miami housing market is supported by various factors, including strong in-migration and other market fundamentals.
These aspects contribute to its allure as a prime location for real estate investment. Considering the city's size, thriving economy, and compelling market dynamics, Miami stands out as a promising destination for those looking to make strategic real estate investments.
Published by HOLR Magazine.