Southeast Asia is a region that attracts millions of tourists from all around the world every year. This Area is very well known for its natural beauty, rich cultural heritage, and warm hospitality. It is also a Popular Destination for luxury Holiday seekers as it's home to some of the most luxurious and indulgent escapes in the world. For travelers looking for a high-end experience, Southeast Asia will be one of the best destinations to Choose from as it has many Options to explore in Luxury and Style as well as multi destinations in Several Countries that can be combined together in one Unique Itinerary. In this article, we will explore the best luxury escapes in Southeast Asia, where you can immerse yourself in pure indulgence and create lifelong memories.
Phuket, Thailand
Phuket, Thailand's largest island, is a popular destination for luxury escapes in Southeast Asia. Phuket offers a diverse range of luxury accommodations and experiences due to its beautiful beaches and vibrant Nightlife. Exclusive resorts line the coastline, offering private pools, personal butler services, and stunning ocean views. Immerse yourself in the lap of luxury as you enjoy world-class amenities and indulge in the ultimate relaxation.
Phuket is also renowned for its spa and wellness centers, which offer traditional Thai therapies and rejuvenating treatments. Pamper yourself with a Thai massage or immerse in a holistic wellness program designed to restore balance and harmony to your body and mind. The serene surroundings and expert therapists ensure a truly transformative experience.
For adventure seekers, Phuket provides opportunities for yachting, water sports, and exploration of nearby islands. Charter a private yacht and sail to the picturesque Phi Phi Islands or engage in thrilling activities such as snorkeling, scuba diving, and kayaking in the Andaman Sea.
To complete your luxury escape, Phuket offers a vibrant culinary scene. Indulge in gourmet dining experiences at award-winning restaurants, where talented chefs fuse local ingredients with international techniques to create culinary masterpieces. After the sun sets, Phuket comes alive with a vibrant nightlife offering sophisticated bars, clubs, and entertainment venues. It's a great idea to include Phuket in almost all Thailand Luxury Vacations. 
Bali, Indonesia
Bali, located in Indonesia, became one of the most popular and most growing tourist destinations in southeast Asia and the world. If you open Instagram and follow a Travel Focused account, you will definitely find a Video about one of the Paradise resorts located on this fascinating Island. The Island is considered as a paradise for luxury seekers. Bali is offering a Mix and a wide range of Luxurious Escapes, and that's due to its stunning beaches, lush landscapes, and unique blend of spirituality and culture. There are plenty of luxurious beachfront villas  as well as villas located in the middle of the Jungle in the UBUD Area that will make you feel that you are staying in Paradise. It's a great idea to combine the stay in Bali between UBUD and one of the beach Districts so you can have a Blend between Beach and Jungle during your luxury Holiday.
To further enhance your relaxation, Bali boasts world-class spa and wellness retreats. These havens of tranquility offer a wide array of treatments, including traditional Balinese massages, holistic therapies, and yoga sessions. Immerse yourself in the healing power of Balinese rituals and rejuvenate your mind, body, and soul.
While in Bali, indulge in the culinary delights of the island. Experience exquisite dining options that showcase authentic Balinese cuisine infused with international flavors. From beachfront seafood feasts to romantic candlelit dinners overlooking rice terraces, Bali offers a gastronomic journey that tantalizes the taste buds.
Maldives
When it comes to luxury escapes, the Maldives needs no introduction. This tropical paradise is synonymous with luxury and exclusivity. Comprising a chain of private islands, the Maldives is home to some of the world's most luxurious resorts.
The overwater villas, perched on stilts above the turquoise lagoons, offer unrivaled privacy and breathtaking views. These villas are equipped with private pools, direct access to the ocean, and dedicated butler services, ensuring an unparalleled experience of luxury.
The Maldives is renowned for its spa and wellness facilities, set amidst the stunning natural surroundings. Indulge in holistic treatments inspired by ancient healing traditions, rejuvenate with yoga and meditation classes, or simply bask in the serenity of the white sandy beaches.
Snorkeling and diving are must-do activities in the Maldives, allowing you to explore the vibrant coral reefs teeming with marine life. The crystal-clear waters offer exceptional visibility, making it a paradise for underwater enthusiasts.
In addition to its natural beauty, the Maldives offers world-class dining experiences. You can dine in one of the many amazing restaurants while your food is prepared by world renowned chefs. Enjoy candlelit dinners on the beach, romantic sunset cruises, or private dining experiences under the stars.
Koh Samui, Thailand
Koh Samui is one of the largest and most exclusive islands in Thailand located in the Gulf of Thailand. This destination is another great luxury escape in Southeast Asia and the world. This tropical island has many beautiful beaches, lush greenery and jungles, and a serene ambiance. There are plenty of luxury Resorts in Koh Samui with private beach access, and exceptional services, where the World richest people choose to spend their one of a Kind vacations at. When it comes to accommodation in Koh Samui, you will find plenty of luxurious Options whether in Chaweng Beach, Lamai or any other Place around the Island. 
The island is well known for its spa and wellness retreats, this is where you can experience a variety of rejuvenating treatments and therapies. From traditional Thai massages to aromatherapy sessions, these wellness centers cater to your every need, promoting relaxation and well-being.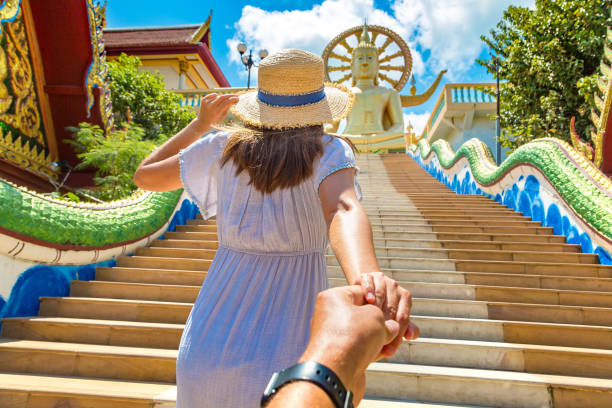 Koh Samui's idyllic beaches provide the perfect setting for relaxation and unique luxury Holidays. Sunbathe on the soft sands, take a dip in the crystal-clear waters, or engage in thrilling water sports such as jet skiing or paddle boarding. In addition to the water activities that can be enjoyed during your stay on the island, you can also visit some of the islands located around Koh Samui in a one day trip with a Private Catamaran or Speed Boat. The most popular islands around Koh Samui that you should consider visiting are Koh Tao, Koh Nangyuan, Koh Phangan and Angthong National Marine Park. 
When it comes to dining, Koh Samui offers a range of high-end restaurants and beachfront eateries. Savor delicious Thai cuisine, fresh seafood, and international delicacies while enjoying breathtaking views of the ocean. Don't miss the opportunity to experience a traditional Thai cooking class, where you can learn to prepare authentic Thai dishes using fresh local ingredients.
There are many other destinations in Southeast Asia that are great for Luxury Holidays too, however the ones listed above are the most recommended to visit especially for First timers to this area of the world. Make sure to book your trip with a reputable travel agency so you can avoid any trouble and enjoy your holiday to the maximum.
Published by HOLR Magazine