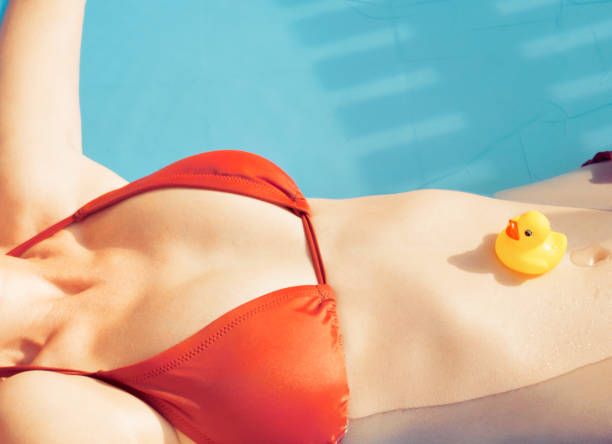 Planning a beach vacation? Want to look your best in a bikini? Halter bikini tops are the ideal swimwear for various body types.
Halter bikini tops have gained popularity among fashion-conscious women due to their stylish design, comfort, and excellent support. With a wide range of designs and patterns, it's easy to find one that suits your style.
Reasons Behind the Trend
Firstly, let's discuss why halter bikini tops are currently trending. They have become this season's hottest fashion trend. These tops have been all over social media lately, and their popularity shows no signs of fading away.
Bralette-style bikinis have returned since their introduction in the 1940s and 1950s by iconic figures like Marilyn Monroe and Brigitte Bardot. Designers like Chanel have reintroduced them with a modern twist.
If you're seeking swimwear that is both sexy and functional, halter bikinis are your go-to choice. The triangle bra-style top offers a bust definition and flatters the neckline, which is why many celebrities are seen wearing them.
Finding the Perfect Halter Bikini Top for Your Body Type
Now, let's explore how to find the perfect halter bikini top for your body type:
Busty Women: Opt for halter tops with thick straps or double bands that provide adequate support without digging into the shoulders while maintaining shape.

Full-Figured Women: Look for fuller coverage cups or consider adding padding for support and shape.

Athletic Cut Women: Triangle or V-neck cuts can highlight and flatter the shoulders. Choose a bandeau style with side strings to accentuate your back for a more daring look.

Petite Women: Look for halter tops that lift the bust for added volume. Choose small prints to create the illusion of fullness.

Pear-shaped Women: Halter bikinis can be particularly flattering as they draw attention upwards and make the waist appear smaller, especially when paired with high-waisted bottoms.

Plus-Size Women: A supportive halter bikini top in vivid colors or interesting patterns can work wonders for a confident beach look.
Regardless of your body shape – whether curvy, slim, or hourglass – there's always a style that complements your unique silhouette.
Mixing and Matching for Style Enhancement
Once you have found the perfect halter bikini top, it's time to enhance your style by mixing and matching. This adds flair to your swimwear and creates a visually pleasing look. Pairing a bright-colored solid halter bikini top with muted bottom swimsuits adds contrast and excitement to your ensemble while keeping you cool during hot periods.
Another smart option is to pair patterned tops with basic bottoms. This draws attention upward, where people naturally focus on details, resulting in a more cohesive outfit.
Final Thoughts
Halter Bikini Tops aim to enhance natural body shapes while providing comfort and coverage for all body types. Finding the perfect halter bikini top takes effort, but mixing and matching it opens up exciting possibilities and creates numerous outfit combinations that can dazzle those around you.
In conclusion, don't hesitate to try halter bikini tops that complement your body type the most. Mix and match them for a fun day at the beach! Whether you prefer a sporty or feminine, classic or trendy look, halter bikini tops are the perfect swimwear choice. With a wide range of options, you can find a halter top that flatters your body type, boosts your confidence, and elevates your beach style. Give it a try today and see the difference it makes!
Published by HOLR Magazine.