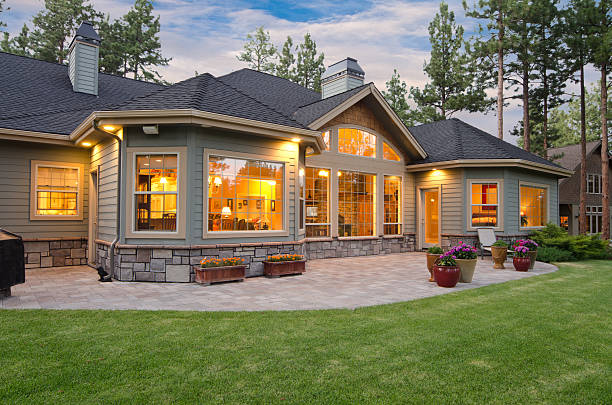 As a homeowner, investing in outdoor lighting is a great way to make your home feel safer and more inviting. Having a well-lit outdoor space is not only aesthetically pleasing but also has a few practical benefits. In this article, we'll be exploring what outdoor lighting is and why you should invest in it.
What is Outdoor Lighting?
When people talk about outdoor lighting, they're referring to outdoor lighting fixtures typically used to light up exterior spaces such as walkways and gardens. Outdoor lights can come in various styles, shapes, and sizes. They also have different functionalities and can be used for security or aesthetic enhancement.
Reasons to Invest in Good Outdoor Lighting
#1. Increased Safety
They can make your home safer by providing additional visibility at night. With exterior lighting, it's easier to spot suspicious activity and makes it harder for intruders to hide in the shadows. Investing in outdoor lighting can help you feel more secure and is an added layer of protection for your family!
Outdoor Lighting that can Provide Increased Safety:
Motion Sensor Lights- this type of lighting is activated when it senses motion, making it an excellent security feature. They are usually placed in high-traffic areas such as driveways, pathways, and garden beds;

Floodlights- these lights are bright and can be used in large areas to provide additional visibility. They are usually used in entrance ways and outsides of garages;

Pathway Lighting- this type of lighting is helpful for creating a safe, illuminated path to your home;

Security Lighting- this type of lighting is designed specifically for security purposes, such as illuminating dark areas around your home.
#2. Curb Appeal
Investing in outdoor lighting will surely make your home look more inviting and increase its curb appeal! Lighting up your yard or garden will make it easier to appreciate the beauty of your landscaping and can also make your home more inviting to family and friends. There are a variety of outdoor lighting fixtures to choose from, so you can find the perfect style for your home.
Types of Outdoor Lighting for this Purpose:
String Lights- these are a great way to add a subtle and elegant touch to your outdoor space. You can hang them in trees or along your fence line for a cozy, inviting atmosphere;

Wall Sconces- this type of lighting adds a nice touch to your home's exterior. They are usually attached to walls and can provide a warm, welcoming glow;

Post Lights- these are great for illuminating pathways and other areas around the perimeter of your home;

Spotlights- this type of lighting can highlight special garden features, such as trees, sculptures, or other decorations.
#3. Energy Efficiency
Surprisingly, investing in outdoor lighting can also help you save energy! You can reduce your electricity costs and be more environmentally friendly with LED or solar-powered lighting. If you're interested in opting for energy-efficient outdoor lighting for your existing home or a new construction project, Blingle! in Fort Collins can help you out with the installation and setup.
Types of Energy-Efficient Outdoor Lighting:
Solar-Powered Lights- these are great for saving money and don't require any wiring. Due to their easy installation and energy efficiency, they are a popular choice for outdoor lighting;

LED Lights- these bulbs last longer and require less energy than traditional lights. They are also an excellent option for those looking to reduce their electricity costs;

Motion Sensors- this type of lighting will only turn on when movement is detected, which helps you conserve energy;

Low Voltage Lights- these lights use a lower voltage than traditional lights, reducing their energy consumption.
#4. Design Flexibility
Finally, investing in outdoor lighting can give you the flexibility to design a unique and beautiful lighting scheme for your home. With all the different lighting types available, you can customize the look and feel of your home's outdoor area. Whether you're looking for a subtle glow or a dramatic effect, you'll be able to find the perfect lighting solution for your home.
Outdoor Lighting that Offers Design Flexibility:
Spotlights- highlight special features of your outdoor space and can also be used to create dramatic lighting effects;

String lights- they are known for providing a beautiful, ambient glow and can also be used to decorate for special events;

Wall sconces- these are great for providing subtle lighting and creating a more inviting atmosphere;

Uplights- this type of lighting casts a beautiful glow and can be used to enhance your garden or other outdoor features.

When Should I Invest in Outdoor Lighting?
The best answer to this question is: as soon as possible! You should not miss out on all the benefits they can offer. Outdoor lighting provides various benefits and can help make your home more secure, attractive, energy-efficient, and flexible. Investing in outdoor lighting will give you the perfect opportunity to transform your outdoor area into something special. 
Published by HOLR Magazine.