International Women's Day just passed us, but this doesn't mean we should ever stop celebrating women! Celebrating women should go beyond just one day.
It goes to show that women have accomplished quite a lot in the past few decades. Simple things such as pursuing a career or having the right to vote were things that no woman could even dream about decades ago, as it just wasn't something that women were able to do because of social circumstances. However, times have changed and the hardships that women have endured in the fight for equality have proved that despite the patriarchal system, the future is female.
In the wake of the Time's Up movement, no longer are women silenced to remain hush on their sufferings, but instead encouraged to speak up and fight. Many organizations and activists continue to show support and share the message of resilience for women, providing a safe space for women to pull together a community to support women.
Below are just a few examples of women who paved the way for women's rights with their dedication.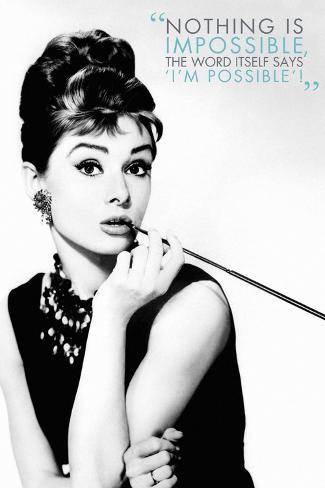 Audrey Hepburn
The "Breakfast At Tiffany's" star was not only known for her beauty and elegance, but for her down-to-earth personality. The British actress was an influential icon in the '50s and '60s when she was at her peak, and continued to show her good nature by devoting the rest of her life to humanitarian work with UNICEF after her the end of her acting career.
Emma Watson
Aside from being well-known for her role as Hermione Granger in the "Harry Potter" series, Emma Watson is a prime example of a modern day feminist who also serves as the Goodwill ambassador for UN Women. Watson has shared her ways of celebrating International Women's Day numerous times the past couple of years, proving the importance she believes women have. Back in 2016, the British actress took to Twitter to share a custom emoji for HeForShe, a UN campaign to enlist men in the fight for global gender equality. In 2017, Watson hid feminist books all around New York City in partnership with Book Fairies, with the goal of celebrating the social, economic, cultural and political achievements of women through the power of literature in mind.
Malala Yousafzai
As the world's youngest Nobel Prize laureate, the Pakistani activist has truly deserved the honour after everything she's been through. In 2012, the young student was targeted and shot in the head after speaking up about girls having the right to get an education. Despite this unfortunate event, Malala survived the attack and continued to defy the Taliban and speak out on the importance of education for everyone. She published her first book "I Am Malala," a year later and gave a speech to the United Nations. Malala then won the Nobel Peace Prize in 2014 for her continuing efforts and activism.
Rosa Parks
Known for the infamous incident back in 1955 of refusing to give up her seat to a white passenger, Rosa Parks became a well-known historical figure and dubbed "mother of the modern-day civil rights movement" because of this act. The civil rights activist sparked the Montgomery Bus Boycott and thanks to her actions, efforts were made to end racial segregation in public facilities.
Ellen Degeneres
One of the world's most influential celebrities today, Ellen Degeneres continues to inspire and motivate others to be who they truly are and to always show acts of kindness. Over the years, Degeneres has brought many people of all kinds to her talk show, giving them a platform to speak out and gain recognition from the world. Despite all the bad in the world, Degeneres manages to still have the biggest heart and always chooses to focus and improve the good rather than focus on the bad. Back in 2016, she posted a powerful video montage featuring many different women in honour of International Women's Day, and in 2017, she took to Twitter to thank women for fighting for the world we live in today where she can live openly as a gay woman.
Diana, Princess of Wales
Forever the "people's princess," the British Royal princess was always a favourite of the public because of her dedication to humanitarian charity work and down-to-earth nature. Despite her rocky marriage with Prince Charles and not always following royal protocol, this made Diana all the more admirable as she valued helping others rather than worrying about what the public thought about her. She raised awareness and advocated ways to help people affected with HIV/AIDS, cancer, and mental illness with her efforts. Her untimely death shook the world and many still mourn the tragedy to this day.
Michelle Obama
Not only the first African-American First Lady of The United States, Michelle is also a lawyer, writer, and university administrator. Aside from her influential best-selling novel "Becoming", Obama has served as a role model for women all around the world working as an advocate for poverty awareness, education, nutrition, physical activity and healthy eating. She has graced the realm of politics with her activism, and beauty inside and out.