Sometimes, a breath of fresh air in new territory is needed.  There's nothing better and more refreshing than discovering a city you haven't stepped foot in.
Exploring a new culture, new places, new faces, new cuisine styles — they're  all small parts of an experience that piece together your overall understanding and feel for an unfamiliar place. Out of many cities I've had the chance to visit, Madrid is particularly special.
There are so many different aspects of a city that make it what it is — I'll first start off by saying that the architecture in Madrid is absolutely stunning. It's no doubt humans are very visual creatures and we highly perceive something by the way we see it. Despite being a socially modern city, Madrid's architecture has maintained the look and feel of its historical buildings. You get a glimpse of renaissance throughout walking its streets, and it's especially prominent in the landmarks of the city.
A day in Madrid can be very relaxing. During times you feel the hustle and bustle of the city at peak hours, but overall it's a soothing atmosphere. What I mainly loved about the city was the overall lifestyle. There's always people on the go, but there's always a good amount of people sitting down at the park enjoying the weather, or sitting at a shop having an espresso.
Everything is close to each other — coffee shops, clothing stores, art galleries. Personally, I'm a huge fan of coffee shops. The idea of sitting down in a city cafe with a croissant, tea, and a book is really soothing to me. Luckily in Madrid, there's an endless number of bakeries and cafes to explore and have the perfect snack in. In addition to that, people in Madrid are generally friendly and open to engage in conversation.  The great thing about Spain is that even when it's cold, it's not too cold. With just a coat and a large scarf, you can still wander the streets and go about your day.
Aside from all of that, the cuisine in Spain is very distinct. There are so many great different restaurants to go to, so if you're visiting, you have an endless amount of options to choose from.
Here are some places to definitely visit if you're ever in Madrid:
Mallorca
Located in Madrid's Calle Serrano, Mallorca is one of the best bakeries to go to in the city. There's tons of variety to choose from, with fresh pressed juices, coffee, tea, and great services. There are many locations too! They even serve your tea with an hour glass, to time how long your teabag should stay in. This place is perfect if you're looking for the best croissants, sandwiches, sweets, and champagne. Great snacks and great service.
Casa Lucío 
This hidden gem is a must-visit. Case Lucio has the best steaks, seafood, and of course Jamon Iberico (Iberico Ham). It's one of Spain's specialty foods that you can't miss when you're there  (It would be a sin). Not to mention, this spot is one of Bill Clinton's favourite restaurants!
Parque Del Retiro 
Parque del Retiro is one of Madrid's most prized landmarks. It's a beautiful, spacious park with a small lake you can canoe on in the summer. This park is perfect to go on a walk on a hot summer day, or a cool fall evening. There's also a majestic part of the park where you can see a perfectly trimmed large garden — great for that perfect instagram shot.
Puerta De Alcala 
This is another landmark you have to visit in Madrid. It's in the middle of the city's main roundabout (so there's lots of traffic around there) but it's a perfect spot to see the movement of the city. It translates in English to the Gate of Alcala, and is one of Madrid's most prominent monuments that contribute to the city's character.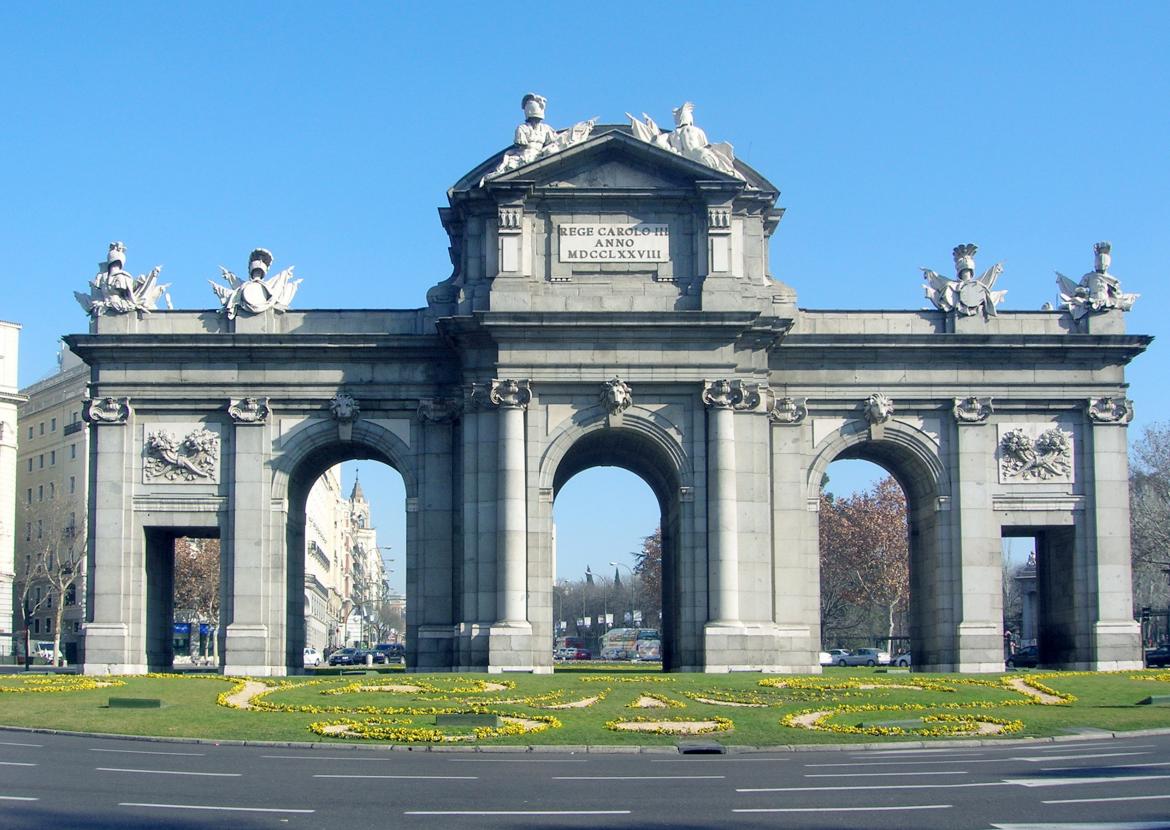 Amazonico 
If you're looking to go out for drinks at a place with a cool atmosphere, then this is the place for you. Amazonico is located in downtown Madrid, and has a great vibe with live music, large crowds, and absolutely amazing cocktails. With its busy atmosphere and green-friendly theme, you're sure to feel as if you're in the amazon rainforest.
Royal Palace of Madrid 
This beautiful landmark is for sure a highlight you have to see if you enjoy the city's architecture. With its victorian-style elements and powerful renaissance structure, the Royal Palace of Madrid is sure to impress tourists from all around the world.
Madrid truly is a beautiful city with so much to offer, and so much to sightsee. The options and suggestions I've shown are simply just sneak peeks of how much there actually is to do in the city — the possibilities are endless! Check out the official tourist website for more to do.
For more on travel, lifestyle, and culture — make sure to follow us @HOLRMagazine.