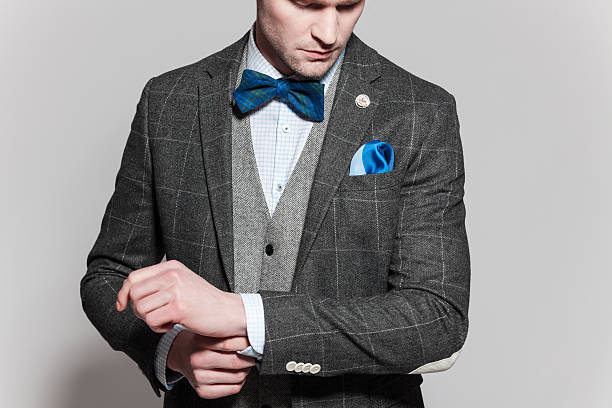 Trends in men's clothing have actually changed over the last few years. Many years ago, most of men weren't interested in fashion. However, in this modern world, more and more men are being aware of their clothes and dressing sense. Nowadays, you will find many men spending a lot of money and time in their closets. Image is everything for a lot of people and a man who is properly dressed receives a lot of respect in the world of business. A suit is one of the best outfits for a businessman. A person who is looking for a perfect suit needs to look beyond its style and more into the fabric. There are various kinds of fabrics with which suits are made for men. However, the ones that make a man look and feel good while wearing them are only the ones that should be purchased. Though there are many kinds of fabrics being used for making suits but only quite a few of them have the ability to provide comfort. Tweed is one of the most common fabric that are used for making suits. Tweed is a warm, flexible, and comfortable fabric that is great for making a suit. It is a lovely fabric that looks elegant and is of superior quality.
Below are a few of the advantages of tweed suits:
Protection from the cold
As tweed is a thicker fabric, it is much suited during cold weather. It is best for you to wear them during the fall and winter seasons. If you are wearing a tweed suit then it will protect you from the cold weather.
Exceptional comfort
Tweed suits are not only warm but are highly comfortable too.
Long-lasting
If you are looking for a long-lasting suit then tweed suits will be your best choice as they are popular for their durability.
Moisture resistance
Tweed is also very popular for its moisture resistance ability.
Variety of types of tweed
Harris tweed

Donegal tweed

Silk tweed

Saxony tweed

Herringbone tweed

Shetland tweed

Cheviot tweed

Barleycorn tweed
If you are looking for a wedding attire then you need to ensure that the attire not only looks great and fits you well but is highly comfortable for you too. Mens tweed wedding suits that are worn look fashionable and elegant. Many people consider them for a wedding because they are smooth and wrinkle-free. If you are considering to wear a tweed suit at a wedding then you need to ensure that your suit doesn't have lots of tweeds. Wearing too much tweed looks overwhelming. Using other fabric along with the tweed makes it look great. Chiffon looks great with tweed. So, you can consider having a suit that is made with tweed and chiffon in order to have a great-looking suit that is comfortable too.
In a number of ways, tweed is the perfect fabric for a modern man. It is practical, durable, and highly comfortable. If you are looking for a formal outfit then a tweed suit will be your best option.
Published by HOLR Magazine.