While the Oscars are finished, we're still not over the red carpet looks from the star-studded event. Many celebrities rocked the red carpet with designers from Givenchy to Dior, the Oscars 2019 red carpet fashion featured a variety of different looks and colours, some being bold and others being more subtle. Here's 10 of our favourite red carpet looks from The 91st Academy Awards.
Lady Gaga 
Nominated for best actress and best song for her role in "A Star Is Born," Lady Gaga owned the red carpet with full-on glam. Wearing a black gown from Alexander McQueen, the "Shallow" singer accessorized this classy look with a Tiffany Diamond said to be worth $30 million, a rare find that hasn't been worn since actress Audrey Hepburn wore it in 1961.
Constance Wu 
Despite not being nominated for any awards at the 2019 Oscars, Constance Wu made a huge statement on the red carpet with her bold coloured dress. Wearing a custom Atelier Versace dress in canary yellow, the pleated gown featured an off-shoulder trimmed neckline complemented with crystals. The "Crazy Rich Asians" star definitely set herself apart amongst the sea of pastel-coloured dresses compared to her vibrant one.
Emilia Clarke 
Debuting a short new hairstyle, Emilia Clarke stunned the crowd with her sculptural custom lavender dress by Balmain. The "Game of Thrones" queen's simple new bob cut complemented her modernized dress, showing off its asymmetrical silhouette and shimmering lavender crystal detailing.
Kacey Musgraves 
Wearing a gown by Giambattista Valli Couture, the country singer sported tiers of pink tulle from head to toe, giving us ballerina vibes. Looking like a cotton candy dream, the Grammy-winning singer's gown made the red carpet all the more fun with it's upbeat colour and dramatic riffs.
Lucy Boynton 
Looking chic as ever, the "Bohemian Rhapsody" star walked the red carpet wearing a dark purple satin gown from Rodarte. The off-shoulder gown featured black velvet bow accents which were complemented with a Cartier jewel ring and earrings, going with her short blonde waves that make Boynton look like a true aristocrat.
Tessa Thompson 
Having attended her first-ever Chanel couture show in Paris back in January, it was nice to see Thompson pay homage to the late designer Karl Lagerfield by wearing one of his gowns that was featured in Chanel's Spring/Summer 2019 couture collection. A black tea-length silk gown embroidered with gold sequin accents, Thompson tugged a few heartstrings with this glam look that celebrates Lagerfield's legacy.
Chadwick Boseman 
One of the best dressed men on the red carpet, Chadwick Boseman truly looked like a king with his long sequin-embellished tailcoat from Givenchy Haute Couture sported with Bulgari jewelry. The "Black Panther" star proved that you can play around with your look instead of always going for the straight suit that men typically go for.
Michelle Yeoh
Arriving at the red carpet with elegance, Michelle Yeoh looked regal with her off-shoulder evening gown by Elie Saab. Embroidered with gold thread and ocean shade sequins, the "Crazy Rich Asians" actress made the look as classy as could be with jewelry from Chopard and Richard Mille and a metallic silver clutch by Roger Vivier.
Jason Momoa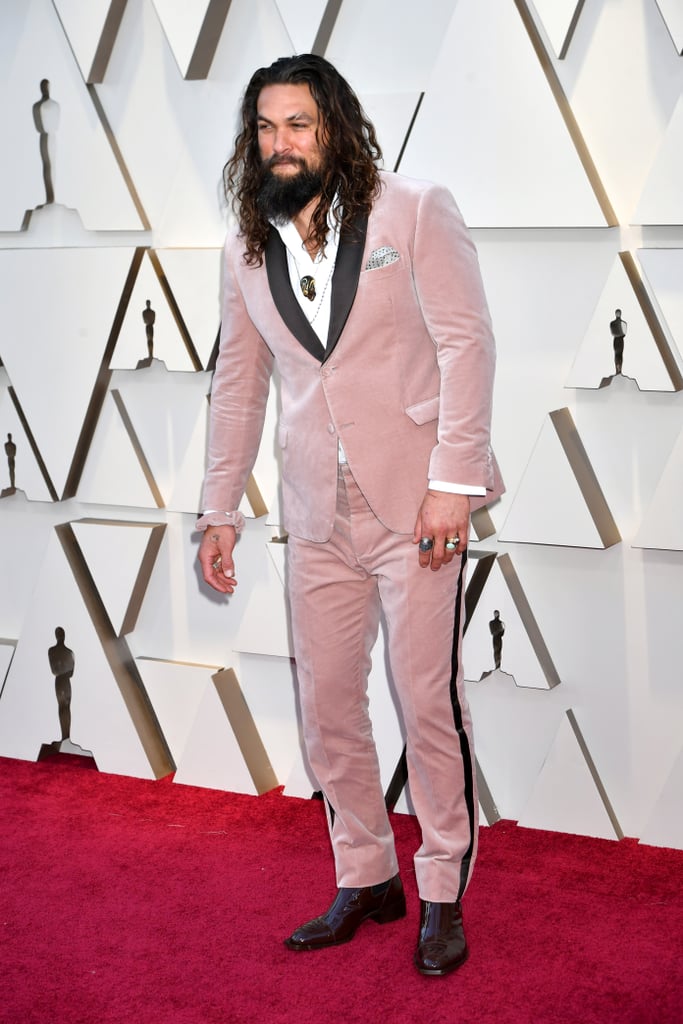 Joining a few others who went with a light shade, the "Aquaman" star sported a velvet dust pink tux from Fendi, joining Tessa Thompson in honouring the late Karl Lagerfield. Momoa generated quit the stir online when fans also caught him wearing a scrunchie that seems to match his suit, quite possible making him the first to ever wear a scrunchie to the Oscars and manage to pull it off.
Charlize Theron 
Like Emilia Clarke, actress Charlize Theron hit the red carpet with a new hairdo and chopped off her long blonde locks for a short brunette bob just hours before the awards show. Already an ambassador for the brand, Theron wore a custom backless Haute Couture Christian Dior dress which was a cornflower blue that gave a clean and classy feel to it. The dress was accompanied with jewelry from the Bulgari Serpenti collection, featuring a diamond necklace of over 75 carats, bracelet, and emerald earrings.
For more celebrity style and best looks, follow us @HOLRMagazine