The rise of the celebrity restaurant is a modern phenomenon: seemingly every week, a new eatery emerges that's owned by a member of the Hollywood glitterati or a superstar of the sporting world. But do these establishments live up to the hype, or are they purely revered for their well-known patrons?
Well, what celeb restaurants have in their favor is that budget isn't an issue. The owners can more than afford to bring on board the most renowned chefs, buy the rarest and most prized of ingredients, and splashing out a fortune on luxe decor. 
But what about the food? Unless this is up to par, too, even the glitziest of celebrity restaurants could struggle to survive and thrive. Below, we round up the eateries that really do live up to expectations and offer a stellar dining experience that consistently brings diners back for more. If you happen to find yourself in an area where one of these restaurants is located, booking a table (if you can!) is highly recommended.
Rustic, Geyserville, California
Owned by legendary director Francis Ford Coppola, this restaurant and winery is a must-visit if you're in the Golden State. The spacious dining space can seat around eighty guests. The decor is as charmingly rustic as the name suggests, with heavy, warm wooden restaurant furniture, snowy white tablecloths, and a beautiful terrace for outdoor eating. The stunning views of the vineyard and mountains add to the dramatic ambiance and, as evening falls, lend a cozy feel to the dining areas.
What's on the menu? People flock to this eatery for its traditional, family-oriented Italian cuisine, which includes authentically prepared Neapolitan pizza, wood-grilled meats, and wines from the vineyard, also owned by Coppola.
And the piece de resistance? The genuine desk, used in The Godfather by Don Corleone, can be found in the winery's Movie Gallery, so be sure to take a look before you leave!
40/40 Club, New York
An all-American sports bar owned by music mogul Jay-Z, the 40/40 Club is slick and stylish. The leather-upholstered wall paneling, smoked bronze mirrors, innovative video walls, and second-floor catwalk give a state-of-the-art, luxury feel to this most exclusive of venues – enhanced by the five VIP lounges available for hire if you're feeling flush!
The sports theme is nowhere more evident than in the menu, which is divided into baseball-inspired sections: appetizers can be found on 1st Base, 3rd Base is mains (such as house favorite penne pasta alla vodka), you can peruse sides in the Dug Out sections, and the desserts are listed under Home Run. Pineapple upside-down cake is one of the most popular choices, in terms of the latter!
Critics have given the 40/40 Club the seal of approval, praising the quality of the establishment's food, drink, and atmosphere.
Walton's Fancy and Staple, Austin, Texas
Sandra Bullock is the Hollywood celeb behind Walton's Fancy and Staple, a hybrid bakery, deli, and coffee shop in Austin, Texas. The vibe here is home-grown, and the establishment is so integrated into its community that it even sells local flowers!
The food is focused on traditional southern flavors and is no-nonsense yet utterly delicious. Shrimp and grits, biscuits and gravy, 'dirty' potato chips, and honey-bee cake are just a sample of the much-loved delights on offer. The decor is exactly as you'd expect: smart, traditional, and clean as a whistle, with scrubbed wooden tables and 'distressed' look painted walls.
The Grapes Gastropub, Limehouse, London
In his novel, Our Mutual Friend, Charles Dickens references this pub, and the establishment maintains a distinctly Dickensian feel to this day – it's one of the oldest pubs in London. It's owned by star of screen and stage Sir Ian McKellan and offers diners traditional, hearty British fare – and there's not a television or fruit machine in sight!
The establishment overlooks the River Thames and is a wonderful spot from which to watch the world go by with a pint of real ale – talking of which, The Grapes has been recommended in The Good Pub Guide every year since 1996.
The menu includes pub classics such as deviled whitebait, shepherd's pie, and chocolate mud cake, all cooked to perfection and beautifully presented. A recent addition to the menu is the Mini Tapas section, which features offerings like Spiced Feta and Dried Tomato Bites, Lamb Koftas, and Spiced Salt and Pepper Squid.
Tagine, Beverly Hills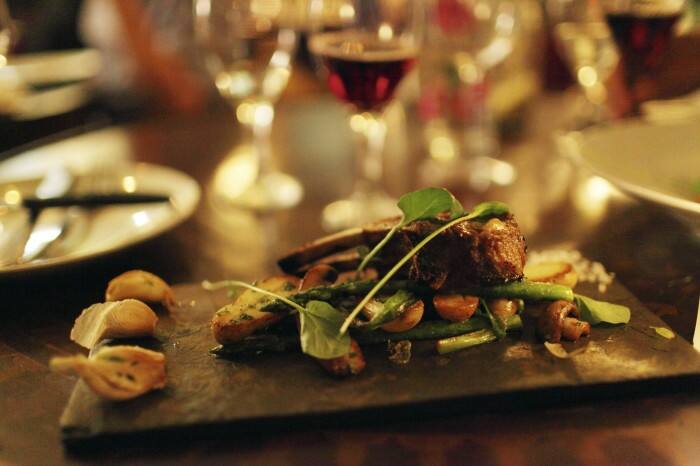 Hollywood star Ryan Gosling is part-owner of this tucked-away Beverley Hills restaurant that specializes in traditional Moroccan dishes with a contemporary twist. The focus is on a fine dining experience, enjoyed in an intimate, cozy setting.
Diners can opt for a tasting or an a la carte menu. The popular Tagine Signature Tasting Menu features a range of dishes, including the Mezza of the House, Chicken Bastilla, Fish Tagine, and Lamb Chops, followed by a selection of delicious desserts. Alternatively, select the Chef's Menu to receive nine courses of the chef's choice.
Got something to celebrate? Tagine can cater for private parties of up to forty guests or can even provide spectacular off-site catering if you want a taste of the restaurant's delights in your own home!
Published by HOLR Magazine.