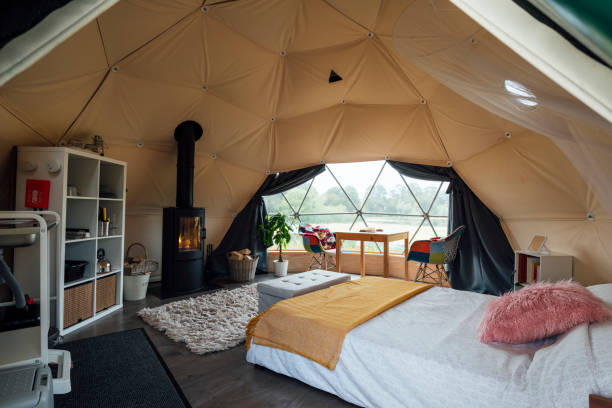 If you have never heard of Glamping, don't worry, as you're not the only one. This word was recently coined, but it gets traction in everyday use very fast. Glamping stands for Glamorous Camping, or ditching all traditional understanding of what camping is and adding glamorous items during this popular activity in nature.
Although traditional campers strongly refuse to use it, both in conversation and in actual life, more and more people are jumping on the moving train and enjoying the benefits from it. When we say glamping, we do not think of a fixed camping frame, but a variety of fun and exciting ideas.
In this article, we talk about the beauty of glamping, its benefits, and why you need to know about it in 2023. If you love camping, but you prefer adding a bit more style to it, you should continue reading with care.
Fabulous nature is a must
When you're thinking about camping, you're thinking of nature, of course, but when it comes to glamping, you must find a spot in nature that will be mesmerizing. When you're trying to achieve glamorous camping, you must find a place in nature that will have staggering views, unprecedented fresh air, tons of amazing trees, bushes, or whatever the person organising loves.
Most glampers will choose a mountain cliff that has outstanding views of the surroundings, a crick with lots of wildlife and flora that can't be found in cities. Even though we're talking about a glamorous event, nature is still the number one reason you're there, so it must be flawless.
Out-of-this-world camping accommodations
Camping means sitting by the campfire and sleeping in a small tent or a sleeping bag. Glamping means making barbeque on an extended BBQ set and sleeping in an oversized tent that has anything you need inside.
The glamping tent is huge and has various appliances inside. It has a super comfy king-size bed, a fridge, romantic lighting, air conditioning, and even private bathrooms. Many people will choose big camper vehicles for this, as there are models that provide all of this in one place. They even have additional aluminium toolboxes in which everything is stored just in case.
Some people prefer a true connection with nature, though, so they'll install a tent in these locations, adding everything mentioned above. Yes, it takes a lot of time and effort, but it is all worth it in the end.
Complete modern way of life
Even though you're in nature, glamping, missing a Wi-Fi connection is unacceptable. While most campers and outdoors enthusiasts will suggest leaving your smartphone on silent or turned off, glampers will encourage you to pack your laptop and your wide flatscreen TV with Netflix and other apps installed on it.
They'll set a connection no matter where they are, using the Starlink connection or other solutions. This way, every moment of the glamping experience can be documented and posted on social media instantaneously. You can even go live for your followers, showing what glamping is about.
Luxurious wildlife tours
You'd rarely find people glamping in a boring part of the planet. This activity is most commonly happening in places there's something to see. It may be the savannah, Yellowstone Park, or other locations on this beautiful planet.
With this being said, guides can contribute to the entire experience. Expect tours through the savannah enjoying the life of wild animals, and seeing rare examples of trees, flowers, birds, insects, or whatever you feel interesting. You should be doing exotic travels through historical sites and many other things that you normally would not do.
A level of privacy not typical for ordinary camping
Campers are not too much into strict privacy. They don't mind sleeping in tents with other people or sleeping in the open, under the open sky. Unlike regular camping, glamping means complete privacy, or what you could expect when staying in a five-star hotel.
You may say that glamping is staying in five-star hotels not made of brick and mortar but of tents in nature. It is an absolute change in everything we understand about travel, vacationing, and camping.
Eco-friendly practices
There are two types of glampers – those that want to feel the raw beauty of nature and those that love to enjoy the great outdoors but will stick to modern-day supplies. The first type will love drinking water from wild springs, enjoy the breeze and the fresh air, and will try to leave no trace they've been there whatsoever, while the second type is different.
The second type will carry bottled water from home, install AC in their tents, and will generally do everything they're doing in civilization. Pick which type you are, set up a glamping camp, and enjoy your glamping experience.
Published by HOLR Magazine.