Nestled in the heart of the Tar Heel State, Raleigh, NC, offers a compelling mix of history, innovation, and charm. Whether you're a young professional, part of a growing family, or seeking a fresh start, moving to Raleigh, NC, could be the change you're looking for. This city, brimming with lush green parks and a burgeoning tech scene, has seen a steady influx of new residents. And if you're thinking of moving to Raleigh, NC, it's crucial to have a well-rounded view of the city.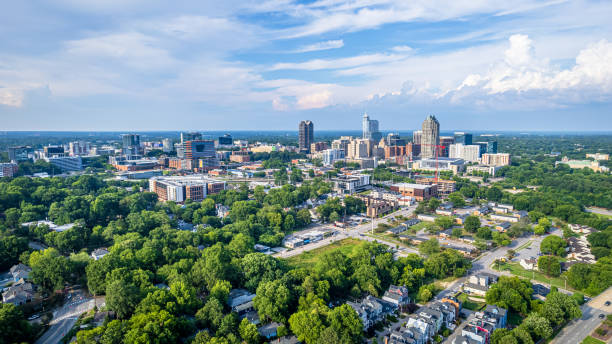 Before you pack your bags and call the Raleigh NC movers, it's important to get acquainted with the ins and outs of the city. Raleigh isn't just about friendly faces and sweet tea; it's a complex and growing urban center with its own set of nuances. From the cost of living to the subtleties of local culture, knowing what to expect when moving to Raleigh, NC will equip you with the insight needed to make your transition as smooth as Carolina BBQ sauce.
The Climate of Raleigh
Understanding the Seasons
Raleigh is famed for its vibrant, distinct seasons. Here, you'll experience the full breadth of what Mother Nature has to offer. The spring blesses the city with blooming dogwoods and azaleas, while summers can be hot and humid—perfect for those who prefer warmer weather. As you're thinking of moving to Raleigh, NC, picture yourself enjoying a mild fall with a picturesque display of autumnal colors, or a short, sometimes brisk winter that only occasionally dusts the city in snow.
Weather Considerations
If you're not from the South, you might be wondering what to know about moving to Raleigh, NC when it comes to weather. Well, summers do get steamy, and air conditioning is non-negotiable. And while winters are mild compared to the northern states, you should still prepare for the odd snowfall that can bring things to a standstill. It's a small price to pay for living in such a dynamic place, but certainly something to consider when choosing your wardrobe and planning your commute.
The Cost of Living in Raleigh
Housing Market Overview
One of the first and perhaps most crucial aspects of moving to Raleigh, NC is understanding the housing market. Compared to many other burgeoning cities, Raleigh remains relatively affordable, although prices have been on the rise with the city's growing popularity. Whether you're looking to buy a quaint bungalow within walking distance of downtown or rent an apartment near the Research Triangle Park, budgeting appropriately will make all the difference.
Daily Expenses
When budgeting for life in Raleigh, factor in daily expenses like groceries, transportation, and utilities. The city's cost of living is reasonable and often seen as a huge draw for those moving to Raleigh, NC. However, as is true for any growing city, keeping an eye on fluctuating costs can help you avoid unexpected surprises. This means monitoring the market trends and maybe even setting aside a 'Raleigh fund' as part of your moving plan.
Employment Opportunities
Key Industries in Raleigh
The job market is often a top consideration when relocating, and Raleigh doesn't disappoint. Home to a thriving tech industry and prestigious educational institutions, the city is a hotspot for innovation and academia. Healthcare and finance are also booming sectors here. If you're moving to Raleigh, NC with hopes of career growth, you'll find a dynamic and supportive environment to explore new opportunities.
Job Market Trends
Raleigh's job market has shown resilience and growth, making it a promising destination for career-minded individuals. It's important to research what to expect when moving to Raleigh, NC job-wise, including the dominant industries and job availability. Networking can also play a significant role, so don't hesitate to reach out to local professional groups or attend city-held job fairs as part of your preparation process.
Education and Schools
Public and Private Schools
For those with families, education is a paramount concern. Raleigh boasts a diverse array of highly-rated public and private schools, each offering unique programs to cater to your child's educational needs. Before moving to Raleigh, NC, it's a good idea to research and visit the schools to find the perfect fit for your family's educational philosophy and your children's aspirations.
Higher Education Institutions
If higher education is on your horizon, Raleigh is surrounded by esteemed institutions like North Carolina State University, Duke University, and the University of North Carolina at Chapel Hill. These institutions not only enhance the intellectual vibrancy of the city but also contribute to a lively and youthful atmosphere that can be quite invigorating when moving to Raleigh, NC.
Lifestyle and Culture
Arts and Entertainment
Raleigh is a city that celebrates the arts with enthusiasm. From the North Carolina Museum of Art to live music venues that attract national acts, there's a cultural vibrancy that's palpable. If you're thinking of moving to Raleigh, NC, imagine spending your weekends browsing local galleries or catching a Broadway show at the Duke Energy Center for the Performing Arts.
Food and Dining
Food lovers rejoice! Raleigh's culinary scene is an eclectic mix of down-home Southern cooking and innovative cuisine. Whether it's a traditional barbecue or a farm-to-table experience, the city caters to all palates. It's one of the delightful perks when considering what to know about moving to Raleigh, NC—the promise of delicious meals is just around the corner.
Transportation Infrastructure
Public Transit
Getting around in Raleigh is relatively straightforward. The city's public transit system, while not as extensive as those in larger metropolises, is growing and evolving, with plans for further development. This includes bus services and proposed commuter rail lines. If you're moving to Raleigh, NC, it's wise to consider your commute and the convenience of transportation options when choosing where to live.
Road and Highway Access
For those who prefer driving, Raleigh is well-connected by several major highways, making travel within the city and to neighboring areas like Durham and Chapel Hill a breeze. However, like any growing city, traffic can be a challenge during peak hours. When moving to Raleigh, NC, think about your commute times and possibly explore alternative routes or work schedules to ease the transition.
Neighborhoods and Real Estate
Choosing the Right Neighborhood
Raleigh's neighborhoods each have their own character and charm, from the historic quarters to newly developed communities. Before moving to Raleigh, NC, consider what environment suits you best—whether it's the family-friendly atmosphere of North Raleigh or the trendy vibes of downtown. Each neighborhood offers different amenities and lifestyle choices that will significantly influence your experience of the city.
Real Estate Tips
Navigating Raleigh's real estate market can be tricky, especially for newcomers. It pays to do your research or work with a local realtor who understands the nuances of the market. They can provide invaluable advice on everything from property taxes to the best local schools, making your process of moving to Raleigh, NC much smoother.
Safety and Crime Rates
Understanding Local Safety
When relocating to a new city, safety is always a consideration. Raleigh is generally regarded as a safe city, with crime rates lower than those of similarly-sized urban centers. Still, like any city, it has areas that are safer than others. Doing your due diligence on neighborhoods and staying informed about local safety initiatives is key when thinking of moving to Raleigh, NC.
Community Policing
Raleigh's approach to law enforcement includes community policing efforts that involve residents in crime prevention. This cooperative spirit is part of the city's fabric and contributes to the overall sense of security that you might look for when moving to Raleigh, NC.
Social Scene and Community Life
Social Gatherings
The social scene in Raleigh is as diverse as its residents. Whether you enjoy quiet coffee shop meet-ups, spirited sports events, or engaging in local meetups and clubs, there's something for everyone. As part of what to expect when moving to Raleigh, NC, anticipate a community that values connection and offers myriad ways to get involved.
Community Engagement
Raleigh takes pride in its sense of community. Local events, from farmers' markets to festivals, foster a feeling of togetherness. When moving to Raleigh, NC, engaging with the community can be the most rewarding way to feel at home, meet new friends, and build a network.
Conclusion
As you can see, there's a lot to ponder when considering a move to the City of Oaks. Moving to Raleigh, NC offers a promising future, rich with opportunity, culture, and community. It's a place where modernity meets tradition, where every season brings its own beauty, and where new residents can quickly feel like they belong. Prepare to embrace the charm, the warmth, and the vibrant spirit of Raleigh. Your new adventure awaits!
Published by HOLR Magazine