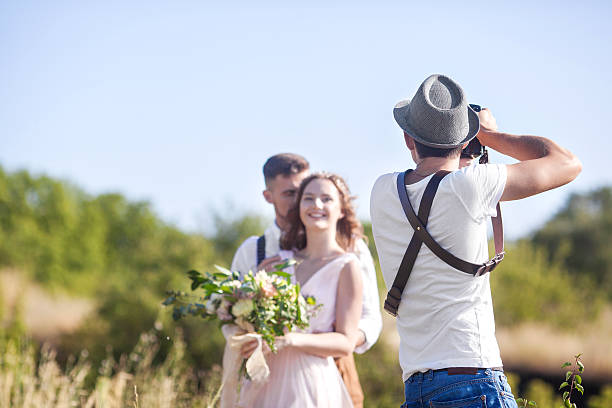 Your wedding is one of the biggest days of your life. It's the best way to relive nostalgia with all those gorgeous pics you have. However, it is important to understand the different styles of wedding photography before selecting a photographer. Let's look at wedding photography styles!
1. Traditional
A classic or traditional wedding photo is like what your parents have from their wedding day. Taking these straightforward photos at eye level and posing may not be very creative, but they're timeless. 
Traditional images are often incorporated into most professional wedding photography, especially after the ceremony which typically includes family portraits. There's no going out of style when it comes to these photos. There's nothing crazy about it, but they're still looking good 50 or 60 years later.
2. Fine Art
A fine art wedding photographer uses the same techniques as a traditional wedding photographer, but with a few twists. Your romantic celebration will be bright and airy with it. Compared to classic digital images, it's softer. Using art but being selfless is the aim of narrating a story. 
Authenticity is key, but so is staying true to the client's needs. The style works best with bold, bright colours and weddings outdoors (due to all the natural light). Find a fine-art photographer if you want soft, charming wedding photos.
3. Photojournalistic
There's something about photojournalistic wedding photography, also known as documentary photography, that's really appealing to couples. There's something about candid pictures that makes you feel like you're right there. The best thing about photojournalistic wedding photography is you get to capture the real emotions of everyone, not just the forced smiles.
In essence, the photographer is just an observer. The photographer interacts with the subject from a distance and doesn't get too close. It's all about presenting the story without even speaking to the people, without affecting them and without even telling them what to do.
4. Editorial
This style feels like a magazine shoot. Wedding photographers who work in the editorial field are the most technical. Posing and lighting are the main focus. Unlike photojournalism, this is a more controlled environment, and the photographers are more hands-on. Your wedding photos will look like they came straight out of a magazine if you choose this style.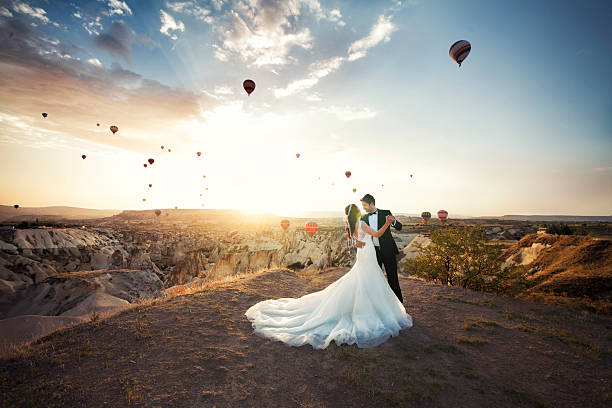 5. Black and White
Although some photographers do use only black-and-white cameras, black-and-white wedding images are more about editing. Almost every wedding photographer offers at least several black-and-white images.
Black and white can speak louder or softer, so it really depends on emotion and feeling. Ultimately, it's up to the photographer. Some photographers have a colour and a black-and-white version of each photo. Their goal is to think about what would convey more emotion in black-and-white.
6. Aerial
Taking photos from an elevated point is this style of wedding photography. On your big day, your photographer will take pictures from above, using ladders, existing levels, and even drones. The photographer needs extra equipment for this, so ask them if you want it. You shouldn't expect your whole wedding gallery to be shot in aerial style (unless you want it to be, of course). Usually, photographers just take a few shots this way.
7. Dark and Moody
As you might expect, dark-and-moody photos are moody, dramatic and dark. Photographers use harsh lines or shadows to create unique patterns and lighting when photographing newlyweds in this style. Editing and shooting in this style are dark. In the last few years, this has become increasingly popular. There are a lot of bridal magazines showing it.
8. Vintage
Sepia filters and brown tones aren't the only things that make vintage wedding photography vintage. The whole retro-vintage wedding experience is what we're looking for. There are a lot of different styles of wedding photography, but this is one of the most popular. It's popular even for everyday stuff. It's hard not to like these photos. Maybe it's the nostalgia they're waking up to. You could even go one step further and give the whole wedding a retro vibe through the decor and ambience.
9. Landscape
The landscape photo style is a popular one outside of weddings. Nevertheless, it's becoming a popular add-on for photographers who shoot weddings in scenic locations. As part of this process, the photographer scouts out the location with the couple. Photographers shoot landscape images that include the couple and an adventure scene for scale and epic beauty.
Most of the time, it's just part of the day, so you don't get many pictures like this. Despite this, you'll get some amazing, sweeping views, but know they sometimes require a hike.
Now that you know all the wedding photography styles, it's time to pick the best photographer specializing in your favourite. Have a great hunt!
Published by HOLR Magazine.