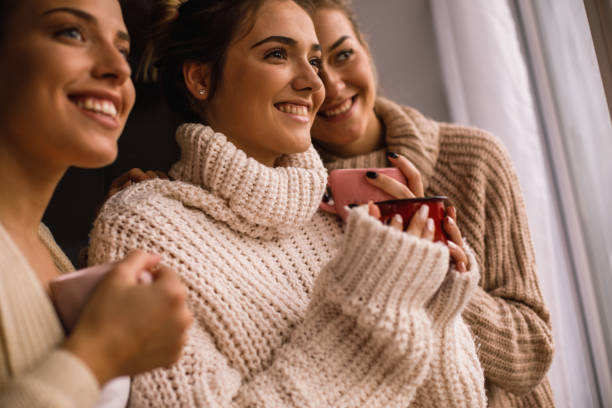 Are you looking to stay warm and stylish this fall? Look no further than women's knitwear! There's something special about wrapping up in a cozy, knitted sweater. Whether you want something classic, timeless, or even more daring, there's an option. From fuzzy sweaters to lightweight knits and even chunky cardigans, there's a style and fit for everyone. Knitwear is the perfect way to transition from summer to fall and make a fashion statement. So, let's dive in and explore the best-knitted sweaters for the upcoming fall season!
The hottest trends in women's sweaters for fall
There are some seriously hot trends regarding women's sweaters for fall. This season, it's all about bold and vibrant colors, from deep reds to electric blues. You'll also find oversized and slouchy silhouettes that are cozy and chic. The texture is key, with cable knit, ribbed, and chunky sweaters taking center stage. And let's not forget about statement sleeves – bell, balloon, and puffed sleeves are all the rage. Stay on-trend this fall with these must-have women's sweater styles!
The best materials for fall sweaters
When it comes to choosing the best materials for your fall sweaters, it's all about finding a balance between warmth, comfort, and style. Here are some top materials to consider:
Cashmere. Cashmere sweaters are a luxurious option that offers unparalleled softness and warmth. They are lightweight yet incredibly insulating, making them perfect for chilly autumn days.

Merino Wool. Merino wool is a versatile choice that combines warmth with breathability. It has excellent moisture-wicking properties, keeping you dry and comfortable throughout the day. Plus, it's naturally odor-resistant, making it a practical option for everyday wear.

Cotton. While typically associated with summer, cotton sweaters can be an excellent choice for transitional weather. Lightweight and breathable, they are ideal for those mild fall days. Opt for a chunky knit cotton sweater for added texture and style.

Alpaca. Alpaca wool is known for its exceptional warmth and softness. It's also hypoallergenic, making it an excellent option for sensitive skin users. Alpaca sweaters come in various weights, from lightweight to chunky, allowing you to choose the perfect level of warmth for your needs.

Mohair. If you're looking for a cozy, fuzzy sweater, mohair is the material. Mohair sweaters are incredibly soft and have a unique, fluffy texture that adds dimension to any outfit. They provide excellent insulation and keep you snug on colder days.
Remember to consider the care instructions for each material to ensure your sweater lasts season after season. With these top materials, you can stay stylish and warm throughout fall.
How to style your women's sweater this fall
When styling your women's sweater this fall, the options are endless! Here are some tips to help you create chic and fashionable outfits with your favorite knitwear:
Layer it up. Layering is key during the fall season, and sweaters are perfect for adding warmth and style to any outfit. Pair a chunky cable knit sweater with a button-down shirt and some skinny jeans for a cozy and polished look. Or layer a lightweight knit over a turtleneck for added warmth and dimension.

Belt it. Add some shape and definition to your sweater by cinching it at the waist with a belt. This will create a more tailored and sophisticated look, especially when paired with high-waisted pants or a skirt. To change your look, experiment with different belt styles, from wide statement belts to thin and delicate ones.

Play with proportions. Mix and match different sweater styles and lengths to create a stylish and on-trend outfit. Pair an oversized chunky sweater with slim-fitting leggings or skinny jeans for a balanced and effortless look. Or tuck a fitted turtleneck into a high-waisted skirt for a more feminine and polished ensemble.

Add accessories. Accessorizing is key when styling your women's sweater this fall. Pair your favorite knitwear with a statement necklace or a chunky scarf to add visual interest and personality to your outfit. Don't forget to finish your look with stylish boots or ankle booties for that perfect fall touch.

Experiment with color. Fall is the perfect time to experiment with vibrant colors. Don't be afraid to step outside your comfort zone and try a bold-colored sweater, deep red or mustard yellow. These hues will instantly elevate your outfit and make a statement.
With these styling tips, you can confidently rock your women's sweaters this fall season and stay warm while looking fabulous. Remember to have fun and express your style through your knitwear choices. Happy styling!
From work to weekend: Versatile women's sweaters for every occasion
Regarding versatility, women's sweaters have covered you from work to the weekend! Whether you need a polished look for the office or a cozy ensemble for a casual outing, there's a sweater style for every occasion. For a professional look, opt for a sleek and tailored sweater paired with tailored pants or a skirt. Wear a more relaxed weekend vibe with a chunky cardigan or a trendy oversized sweater paired with your favorite jeans or leggings. With the fitting sweater, you can effortlessly transition from work to the weekend while staying cozy and chic.
In a season filled with cozy and stylish women's sweaters, there's no doubt that knitwear is a fall fashion essential. We've covered everything from the latest trends to the best materials and styling tips. So embrace the chilly weather and wrap yourself in the warmth of a knitted sweater. With these fashionable and versatile options, you'll stay both comfortable and chic all season long. Whether you're heading to the office or out for a casual weekend brunch, there's a women's sweater to suit every occasion. So start shopping, start styling, and enjoy a fashionable and cozy fall!
Published by HOLR Magazine.