During Miami's speedy growth, pre construction projects have taken center stage, attracting plenty of investors and homebuyers.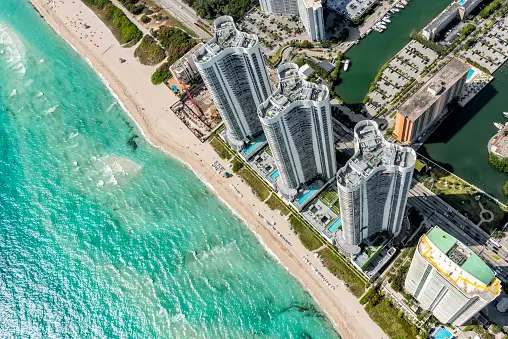 But with a new project announcement practically every month, it can be a challenge to navigate through the sea of options and pinpoint the ones that truly promise a worthwhile investment. 
That's where we come in!
In this article, we'll explore the finest waterfront residences, sky-reaching penthouses, and enticing amenities that capture the essence of modern luxury living in these top three luxurious pre-construction projects in Miami.
Miami's Finest – The Three Best Luxury Pre-Construction Projects
1. Mandarin Oriental Miami
Located in the popular Brickell Key, the residences at Mandarin Oriental represent the highest level of luxury living. Condos, built as big as private houses, are meant to become a beacon of understated elegance, offering spacious outdoor terraces with breathtaking views of Biscayne Bay.
Designed by the renowned New York firm Kohn Pederson Fox Associates (KPF), the tower will stand 800 feet high, accommodating 220 condo units.
KPF's expertise in crafting bold and sustainable designs is evident in this project, while the interiors are skillfully curated by Parisian designer Tristan Auer, known as a global ambassador of French design, adding a touch of rich European aesthetics.
Ranging from two to four bedrooms, the units will be substantially specious, with the largest measuring approximately 4,700 square feet. 
Condo Features & Utilities
Mandarin Oriental is crowned with a pair of duplex penthouses, each spanning more than 6,000 square feet, providing residents with breathtaking panoramic water views. The centerpiece of amenities is the 100,000-square-foot resort-style amenity podium, connecting the two statement towers. 
Guests and residents can indulge in multi-tiered, landscaped infinity-edge swimming pools, private cabanas, a signature spa, state-of-the-art health and wellness facilities, and lush greenery crafted by the renowned Thai firm, Shma. 
Additionally, world-class restaurants, private dining rooms with chef kitchens, and executive work lounges further enhance the unparalleled living experience at One Island Drive.
The EDITION Residences Edgewater Miami
The EDITION Residences Edgewater in Miami, situated in the vibrant neighborhood of Edgewater, is built to offer luxurious urban living. 
This exquisite property represents luxury, comfort, and contemporary design, catering to sophisticated individuals seeking the finest in upscale living.
Developed by Two Roads Development, The EDITION Residences will feature 185 condo units with prices starting at $1.95 million. The building design, led by world-renowned architecture firm Arquitectonica, and interior design by the acclaimed Jean-Louise Deniot ensure exceptional craftsmanship throughout.
Condo Features & Utilities
Future residents can choose from thoughtfully designed one to four-bedroom units, each maximizing natural light and providing captivating bay and cityscape views. The premium finishes and state-of-the-art appliances, also add to the one-of-a-kind living experience.
The EDITION residents will have exclusive access to top-notch facilities, including a rooftop pool with panoramic views, a fitness center, a spa and wellness center, a private marina, and beautiful gardens.
Additionally, valet parking, a dedicated concierge service, and 24-hour security ensure ultimate convenience and peace of mind.
72 Park Miami Beach
72 Park Residence is an extraordinary residential building nestled in the heart of Miami Beach, boasting stunning architectural design and luxurious interiors. With breathtaking views and exquisite finishes, this premier sanctuary has us eagerly awaiting its grand opening.
Here residents will be able to enjoy the best of both worlds at 72 Park Residence – an exclusive and tranquil Miami Beach community with easy access to the vibrant city. The striking architecture showcases smooth curves, glass railings, and floor-to-ceiling windows. Each residence boasts open floor plans, high ceilings, condo-grade interior finishes, Italian cabinetry, and energy-efficient appliances.
72 Park Miami Beach Residence offers over 30,000 square feet of outdoor amenities, including a viewing deck, garden, and lap pool. Situated in North Miami Beach, it provides proximity to cafes, country clubs, Lincoln Road, and Bal Harbour Shops, ensuring a thrilling daily experience.
Expertly crafted by renowned architects Built Form and developed by Lefferts, the project features 206 units ranging from 470 to 1,177 square feet, catering to various budgets and preferences.
The development sets itself apart by offering approval for short-term rentals, making it the first new luxury tower in Miami Beach with vacation rental opportunities.
Condo Features & Utilities
The interiors and landscapes, thoughtfully designed by Urban Robots Associates, blend style and functionality effortlessly. Residents will revel in floor-to-ceiling, impact-resistant glass, keyless entry with SALTO, and smart access controls, providing security and convenience.
Moreover, individually controlled central AC and heating systems ensure year-round comfort.
The tower boasts a range of utilities, including a 35,000-square-foot amenity deck adorned with lush tropical landscaping, featuring a 150-foot-long resort-style pool, cabanas, a cocktail bar and lounge area, and an inviting barbecue spot.
For those looking to stay active, there's a state-of-the-art fitness center and a yoga lounge. For professionals, the 24/7 coworking lounge equipped with private "pods" ensures optimal focus and productivity.
Kids have their haven in the playroom, while outdoor gatherings become cherished memories in the private barbecue area. 
To sum it all up, 72 Park Residence promises an exclusive living environment with a focus on comfort and delight.
Published by HOLR Magazine.