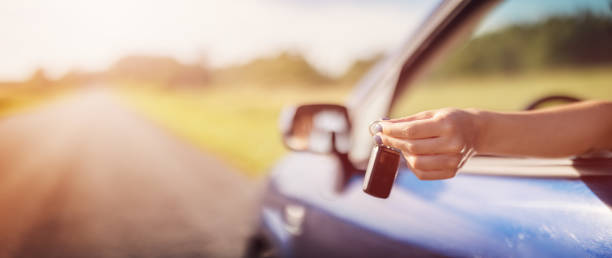 If you just finished high school and you want to tread yourself with a little car trip, but you don't own a vehicle or your parents just won't give you their vehicle it may pose a little problem. Now, . Now, you might think "What if I just rent a car?" Well, there are different laws and policies in place. 
For example, if you are 18 years old you might have to pay some ridiculous surcharge. But, that's different with every car rental company. You don't have to worry about anything because in this article we are going to cover everything that you need to know about renting a car and the restrictions for younger drivers who might want to rent a car.
The Legal Driving Age in New York
Before we get into age restrictions for renting a car we need to take a look at the legal driving age in New York. It goes like this: you can get a learner's permit when you are 16 which will require you to drive with the supervision of a licensed adult. 
However, the minimum age that's required for a full license that doesn't have any restriction is 18. But, if you are 18 and have a full unrestricted license it still doesn't mean that car rental companies would let you drive one of their cars. So, how old should you be to rent a car in New York? Well, let's find out.
Age Restrictions for Renting a Car
Now, let's get to the point of this whole article, and that's what is the age restriction for renting a car in New York. Generally, most car rental companies require renters to be at least 21 years old. That's the industry standard that is set in place to ensure the maturity and driving experience, however, there are rental car companies that might want to rent you a vehicle if you are under 21. 
So, let's see how old do you need to be to rent a car and the car rental age requirement:
Young Driver Surcharge
If you are between the ages of 21 and 24 there is a chance that the staff in the car rental company is going to rent you a car but with a young driver surcharge. Young driver surcharge is how car rental companies offset their risk because they give a car to a younger driver that's not experienced and statistically young drivers have a higher rate of crashes.
These surcharges aren't small, and it's paid like a vehicle, for every day you drive it. You need to pay attention to that because it can get really expensive quickly.
Under 21: Can Rental Age?
For those who are below 21, it can be extremely hard to rent a car in New York, or anywhere else for that matter. But, it's not impossible. There are still some companies that will take a risk but they will give you a hefty surcharge so it might not be that beneficial and convenient for you. 
But, why do car rental companies do that? Well, they need to secure themselves, they don't want to worry about high accident rates and driving inexperience that is generally connected to that age group. Especially if they want to rent a luxurious car.
Exceptions for Military Personnel
There is a big exception, and that is if you are an active-duty member of the U.S. military. Then a lot of rental companies will lower the minimum age limit to 18 and they will not require a young driver surcharge. That is a significant benefit for military personnel who may need to rent a car for whatever reason.
Tips for Renting a Car Under Age 25
If you are under 25 and you need to rent an SUV in New York, here are some of the best advice and tips to help you get that SUV car rental without any surcharge, change in price, and a lot of paperwork.
1. Shop Around
A lot of car rental companies have the same policies and don't rent vehicles to people under 21 or 25. But, not every rental company follows all the rules in terms of not renting to people under 21 or 25. You should do a little research and find a few of them so you can compare them and find the one that's more lenient with age restrictions and surcharges.
2. Consider Local Agencies
When you are not fully able to meet the criteria that these car rental companies set, you should go local. On average, smaller, local places that rent cars out have more flexible policies compared to the large national chains. That's because large car vehicle rentals have a lot of renters daily and won't risk anything.
3. Use Membership Discounts
There are a lot of organizations that can offer some membership discounts. For example, if you are a member of AARP or AAA, you might be able to use their discount to offset the young driver surcharge, which can sometimes be a lot, depending on what rental car company you choose.
4. Plan Ahead
Car rental companies already have a lot of people renting cars from them so you'll need to go ahead and make your reservation well in advance. Some car rental companies even have limited availability for younger drivers, meaning that you probably can't rent out the most expensive car in the fleet and that you need to reserve much earlier because other people have priority over you.
The car rental companies like RealCar NYC are mainly booked so you'll need to reserve earlier, also you are probably going to get a better deal if you book it in advance.
5. Insurance Coverage
If you want to lower your prices you'll need to check in with your auto insurance or with the credit card company that you are in if they offer coverage for rental cars.
Closing Thoughts
Age restriction for renting a car in New York can present some problems, mainly for younger individuals. The minimum age is mainly 21, while everyone that's under 25 can face some surcharge and other complications. However, you should keep in mind that even if you are under 21 you can still find a rent-a-car that will give you a car, so do your research and find rental options that will cater to you. We hope we answered your question "How old should you be to drive a rental car?"