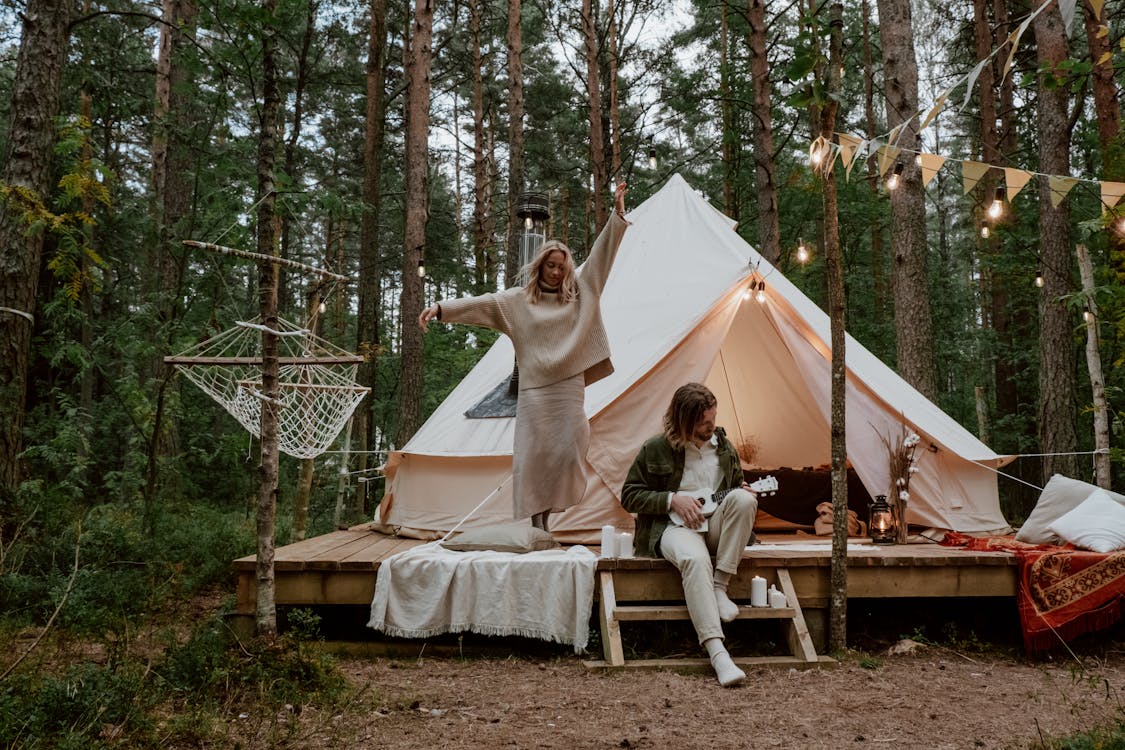 Glamping, a portmanteau of "glamorous" and "camping," has become an increasingly popular way for travelers to experience the great outdoors without sacrificing comfort and luxury. Instead of pitching a tent and sleeping on the hard ground, glamping allows you to enjoy the beauty of nature while indulging in plush accommodations and modern amenities. When it comes to glamping, New York offers a plethora of options that cater to various preferences and interests. In this article, we'll explore some of the must-visit glamping hotspots in the Empire State.
Glamping in the Adirondacks
The Adirondack region, nestled in upstate New York, is a breathtakingly beautiful area known for its pristine lakes, majestic mountains, and vibrant fall foliage. It's no wonder that it's a sought-after destination for glamping enthusiasts. The Adirondacks boast numerous glamping sites that uniquely blend luxury and natural beauty. There's something to suit every taste, from safari tents nestled in the woods to fully-equipped cabins overlooking picturesque lakes. These sites offer amenities such as comfortable beds, private bathrooms, and even gourmet dining options. Sportsfishing enthusiasts from FishNY consider Adirondacks as one of the best fishing spots in New York due to its pristine bodies of water and various fish species. Outdoor enthusiasts will also appreciate the many activities available, including hiking, canoeing, fishing, and stargazing.
Luxury Camping in the Catskills
Another fantastic glamping destination in New York is the Catskills region. Located just a few hours from New York City, the Catskills offer a serene escape from the bustling city life. Glamping sites in the Catskills range from secluded treehouses nestled high in the forest canopy to elegant yurts with panoramic mountain views. These accommodations feature luxurious amenities like hot tubs, fire pits, and private decks. Exploring the Catskills means venturing into enchanting forests, discovering hidden waterfalls, and embarking on scenic hikes. Whether you prefer to relax in nature or seek thrilling adventures, the Catskills have something to offer.
Glamorous Camping in the Finger Lakes
If you're a wine lover and enjoy stunning lake views, the Finger Lakes region is the perfect glamping destination for you. With its rolling hills, vineyards, and glimmering lakes, this area provides an idyllic setting for a glamorous camping experience. Glamping sites in the Finger Lakes offer a range of accommodations, from luxurious tents to charming cottages. Many of these sites are situated near the lakeshores, allowing you to wake up to breathtaking sunrises and enjoy water-based activities such as kayaking and boating. Additionally, don't miss the opportunity to explore the local wineries and indulge in wine tastings during your stay.
Glamping on Long Island
While Long Island is often associated with its stunning beaches and vibrant cities, it also offers some incredible glamping options. Whether you prefer to stay in a cozy yurt or a stylish safari tent, Long Island's glamping sites provide a unique blend of coastal charm and natural beauty. Imagine falling asleep to the sound of crashing waves and waking up to the golden rays of the sun on the beach. Beyond the glamping sites, Long Island offers a wide range of cultural and historical attractions, including the famous Hamptons, charming lighthouses, and quaint seaside towns.
Glamping near New York City
For those who want to experience glamping without venturing too far from the Big Apple, there are several excellent options near New York City. These glamping sites provide a peaceful retreat just outside the bustling metropolis. You can choose from luxurious tents, cozy cabins, or even glamorous Airstream trailers. These accommodations offer unique features such as rooftop decks with skyline views or access to nearby hiking trails. When you're not enjoying the comfort of your glamping site, take the opportunity to explore the city's iconic landmarks, indulge in world-class dining, and immerse yourself in the vibrant culture.
Insider Tips for Glamping in New York
To make the most of your glamping experience in New York, consider the following insider tips. First, be mindful of the best time to visit each region. The Adirondacks and Catskills are particularly stunning during the fall when the foliage is ablaze with vibrant colors. Second, it's advisable to book your glamping accommodations well in advance, especially during peak seasons. Third, pack essentials such as comfortable outdoor clothing, insect repellent, and hiking boots to fully enjoy the outdoor activities. Finally, always prioritize safety and environmental awareness by adhering to park regulations, leaving no trace, and respecting the natural surroundings.
New York offers an array of must-visit glamping hotspots, each with its own unique charm and allure. Whether you prefer the tranquility of the Adirondacks, the beauty of the Catskills, the allure of the Finger Lakes, the coastal charm of Long Island, or the proximity to the bustling city near New York City, there's a glamping experience waiting for you. Embrace the opportunity to reconnect with nature while enjoying the comforts of luxurious accommodations and modern amenities. Glamping in New York is the perfect way to create lasting memories and indulge in a unique blend of adventure and relaxation. So, pack your bags, embark on an unforgettable journey, and let the glamping adventure begin!
Published by Holr Magazine.