A dress shirt is more than just a piece of clothing, it's a statement of confidence and style. It's an essential part of any woman's wardrobe. Whether you're dressing for a special occasion, making a statement in the workplace, or just want to add a touch of elegance to your everyday outfit, a well-fitted women's dress shirt is an essential part of your wardrobe. We're going to dive deep into the ins and outs of women's dresses to help you find the perfect dress shirt that not only flatter your curves but also reflects your unique style. Whether you're a fashion enthusiast or just looking to add some style to your wardrobe, we've got you covered. We'll cover everything from fit to fabric to style and much more.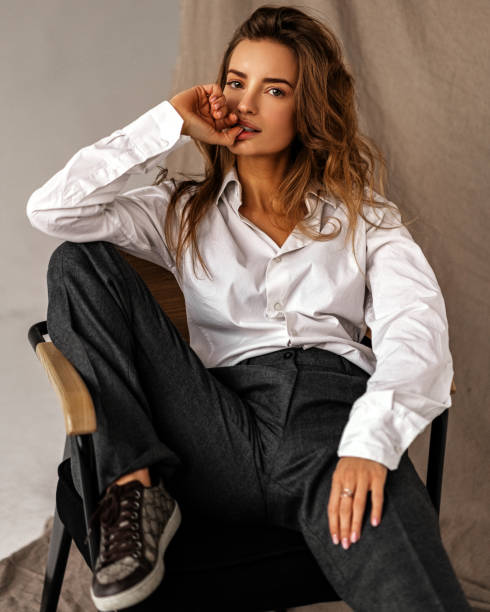 Selecting the Right Fit
When it comes to choosing the perfect women's dress shirt, there's nothing more important than finding the perfect fit. Your dress shirt fit is the canvas on which your entire outfit is built. It accentuates your best features, provides unmatched comfort, and helps you look and feel your best.
But finding the right fit isn't just about picking a size off a rack. It's a complex process that begins with understanding your body type and your measurements. Start by understanding your body shape: are you an hourglass shape, pear shape, apple shape, or rectangle shape? Every body type has different preferences for dress shirt fit. If you're an hourglass, you'll want a tailored fit that accentuates your waist, while if you're apple shape, you want a looser fit that provides comfort around your midsection. 
Pay close attention to your measurements: Knowing your bust, waist and hip is key to finding the perfect dress shirt. You'll be better equipped to find a dress shirt that not only flatters your body but also feels incredibly comfortable. Look for shirts with a variety of fits: regular, slim, and tailored options. Before you even consider fabric or colour, start your search by getting to know your body and how it curves. The perfect fit isn't just a surface, it's the foundation of the dress shirt that will make you feel and look your best. In future posts, we'll look at other key factors to consider when selecting the perfect women's dress shirt.
Exploring Fabrics and Their Impact
Choosing the right fabric for your dress shirt isn't just a last-minute decision, it can have a huge impact on your overall dress shirt experience. Knowing the ins and outs of different fabrics is essential to ensure you look great and feel comfortable in your outfit. Cotton is a timeless fabric that is both breathable and comfortable. Its natural fibres let your skin breathe, making it perfect for all day wear, especially during the warmer months. The softness of cotton feels amazing against your skin. If you're looking for a touch of luxury, silk or a satin blend is the way to go. 
Silk drapes beautifully and adds a touch of elegance to your dress shirt. Linen is a great fabric for warm weather. It's lightweight and breathable, making it ideal for those hot summer days when you just want to stay cool. Linen's natural wrinkles are often seen as cute and charming, giving your outfit a casual yet stylish look. For those who value both style and mobility, stretch materials come to the rescue. These innovative fabrics blend elastane or spandex with traditional materials like cotton to offer flexibility without compromising on the classic look. Whether you're in a meeting or on the move, stretch materials ensure your dress shirt moves with you.
Mastering Shirt Styles
Dress shirts come in a wide range of styles, each one designed to cater to specific occasions and fashion sensibilities. Let's explore some designs available for women to add to their wardrobesF: 
Classic Button-Downs

: Classic button-down dress shirts are the workhorse of any wardrobe. Their timeless design makes them incredibly versatile, suitable for both professional settings and casual outings. The crisp lines and structured collar provide a polished appearance, making them an indispensable choice for business meetings or a refined brunch with friends.

French Cuff Elegance:

For those special, formal events that demand a touch of elegance, French cuff shirts are the go-to option. What sets them apart are the distinctive cuffs that fold back and fasten with cufflinks. These shirts exude sophistication and are perfect for black-tie affairs, weddings, or important presentations. Choose a French cuff shirt in a high-quality fabric to make a lasting impression.

Effortless Popovers:

When the occasion calls for a more relaxed, laid-back look, popover shirts step into the spotlight. These shirts often lack a traditional button-down front and are effortlessly chic. Popovers are excellent for weekend getaways, casual dinners, or leisurely strolls in the park. Their versatility makes them a must-have for those seeking comfort without sacrificing style.

Daring Styles to Explore

: Beyond these classics, the world of women's dress shirts offers even more daring styles to explore. Consider asymmetrical designs, wrap shirts, or oversized boyfriend-style shirts for a fashion-forward twist. These unconventional choices can add a unique flair to your collection and allow you to express your individuality.
Maintaining Your Dress Shirt
Once you have selected the ideal dress shirt for your wardrobe, it is important to take proper care of it to maintain its quality and colour. To ensure that your dress shirt remains in pristine condition for years to come, it is essential to understand the specific requirements of the fabric. For example, if the fabric is fine cotton, it is necessary to be more mindful of the care routine. If the fabric is delicate, such as silk, it is even more important to adhere to the care label instructions. Additionally, regular inspection of the dress shirt is essential to ensure that no loose buttons or threads are present, as these can lead to more serious issues. To prevent unexpected wardrobe malfunctions, it is recommended to reinforce loose buttons promptly. Finally, a lint roller can be a great addition to any dress shirt, as it can help to keep it free of lint and pet hair, which can have a significant impact on the overall appearance of the shirt.
Elevate Your Wardrobe with Confidence
Searching for the ideal women's dress shirt is an art form. It is not only about acquiring garments, but also about creating an ensemble that reflects one's personality and enhances self-confidence. The fit of the dress shirt is tailored to fit one's body shape, and the fabric chosen is carefully chosen to provide comfort. Each piece of clothing is unique and tells a story that defines the chapter of one's life. Accessories can be used to personalize the ensemble, creating a symphony of colour, texture and sparkle. When standing in front of one's wardrobe, remember that clothing reflects one's identity.
Published by HOLR Magazine.