Whether as an everyday necessity or a once in a while fashion statement, there is no reason eyewear should be boring. 
As trends move towards being more fashion-forward and designer eyewear continues to establish a footing in fashion, the need for a more stylish and chic eyelook is becoming increasingly necessary. 
With the pandemic forcing most of us to switch from wearing contacts to staying home in our specs, 2022 has seen a great shift in the otherwise basic eyewear looks.
To cut it short, 2022's eyewear can be described as sleek and laid back yet expressive, fun, and chic. 
Read on to find more about the latest eyewear styles and discover what suits you the best. We'll also discuss some of the best future resources to follow!
Blue Light Blockers 
With work and everyday tasks moving to virtual spaces, blue light filters have become a necessity at this point. 
So it is no wonder that there has been an increase in the popularity of glasses with blue light filters post-pandemic. Not only do these prevent migraines and eye strains, but they also add a cute and professional look to your style even if you do not wear glasses on an everyday basis. 
Late 1900s-2000s Inspired 
With the Y2K clothing trends making a comeback, it is no surprise how eyewear trends from the '90s and even earlier are returning. Both the maximast style from the '70s as well as the sleek, sporty glasses are having a huge moment in current markets.

As celebrities like Kim Kardashian don the streamlined, sporty eyewear look with slicked back buns to complement their subtle-toned fits, this late 90's look has recently been casually rebranded as the "Model Off-Duty" or the "Clean Girl Aesthetic". 
Now, you do not have to spend hundreds on designer wear to fuel your style. You can start by taking inspo from Pinterest. If a trend exists, it definitely has hundreds of Pinterest boards dedicated to it! It is as easy as scrolling on your phone through hundreds of options with reliable links to follow, while having your coffee or listening to music!
Other than the all-black frames, there has been a hike in the demand for the big and bold, oversized retro eye frames as well.
Whoever says that eyewear does not add to your personal look, we are here to tell you otherwise! These retro frames are the perfect fit for adding a little pizzazz to your everyday eyewear. Not only is it a bold and confident choice, but it also adds an easy and outgoing element to your whole look — ideal for both work and otherwise. 
Tinted, See-Through Glasses
Nothing says glamor like a revised classic style with a modern touch to it. Cool toned acetate frames are an excellent fashion statement, especially for the summer! They are fun, chic, and not limited to any one shape or size. It is more of a "grab and go" style that you can opt for if you want to step out of your comfort zone just a little without going overboard. 
For example, Vada's recent acetate frame eyewear collection has been described as "retrofuturistic optimism", which focuses on moving forward, taking inspiration from the past while still being able to create a new look. 
Their collection starts at around $400 and they also have great styling options for inspo on their Instagram that you might want to check out. 
Bold, Vibrant Frames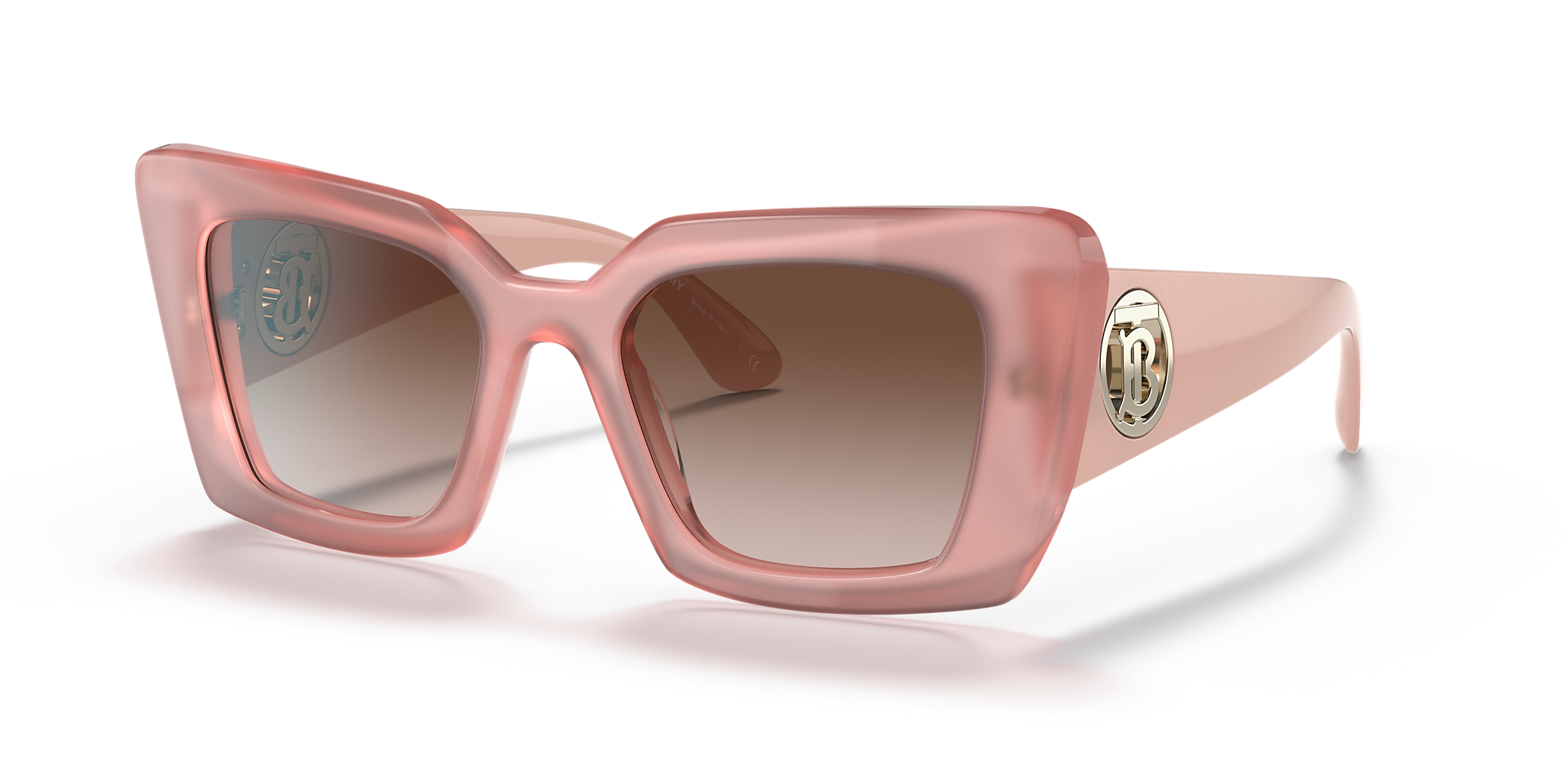 Similar to all-black, sporty glasses, vibrant colorful frames have also made a comeback. These thick, opaque frame glasses are a great way to subtly add color to your wardrobe. 
You can pair them with both neutral-toned outfits for a pop of color or to already colorful fits to complement the patterns. Either way, it is all about finding your personal style, focusing on all the positive energy and bright colors this summer! 
Mesh tops or the Y2K baby tees, these glasses are ideal for complementing almost all fashion choices. You can also pair these with a cute tote bag and a slicked-back bun for a light daytime look or switch to something more formal, yet subtle by letting your hair down for the evening with a baguette handbag and platform heels. 
The new Burberry BE4344 DAISY pastel pink shades are a great option to consider.
The Classic Cat-Eye 
If you are unsure about a brightly colored or tinted frame, you can very well stick to the classic cat-eye as it has not left the market in over 5 years! Perfect for everyday wear, the sleek, cat-eye frame never seems to go out of fashion. 
The shape of this frame covers the width of your brows and gives an emphasis to your brow arch, ultimately giving you an overall elongated, sleek look.
While cat-eye frames suit all faces and are ideal for most occasions (and as an everyday pair), you can look for one with subtle rhinestone details or a brown-toned pattern to add a slightly more sophisticated touch to your style. 
Tortoiseshell frames are a great example of a modern, revised cat-eye that is both subtle and bold. 
And That's A Wrap!
These were some of the most popular eyewear trends of 2022 that have been inspired by past styles but with a modern twist to it. What is old is new again, and we are here for it! Which style are you? Let us know in the comments below.
Published by HOLR Magazine.