The Versace fall/winter 2023 runway show on Thursday took place on a stunning rooftop in Los Angeles on a chilly but beautiful evening. All of the celebs dressed to the nines when they arrived for the star-studded show.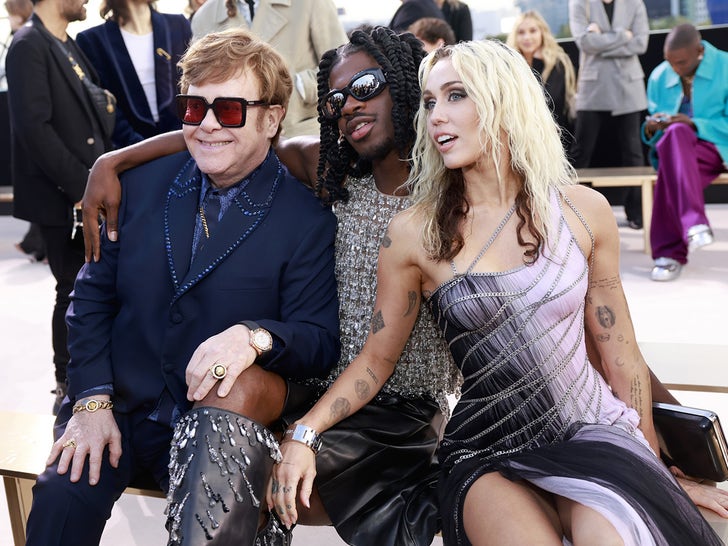 Donatella Versace claims she was inspired by the energy, glamour, and power of Hollywood as decamped from her customary base in Milan to exhibit her garments in Los Angeles just three days before the Oscars. Versace was consequently obliged to move her show up a day due to the possibility of rain on Friday. Despite the chaos, the decision was sound.
A cross-section of the entertainment, fashion, sports, and music industries attended, including Dua Lipa, Miley Cyrus, Cher, Elton John, and Lil Nas X. Ariana DeBose and Anne Hathaway, along with Ke Huy Quan, from the world of film. Former NBA player Dwyane Wade and his wife Gabrielle Union were also in attendance.
All about Fall/Winter 2023 Collection 
Versace's 2023 fall-winter collection was inspired by a 1995 collection of Atelier Versace, the label's couture line, which featured Madonna in a campaign.
Black was the primary colour, followed by caramel, chocolate, apricot, turquoise, and pink. A falling flower pattern and an animal print from the Versace library were among the prints. Styles like whimsical fringe, sparkling embroidery, and monochromatic colour schemes were also properly noted.
Check out Holr's favourite Celebrity looks from the show:
Miley Cyrus
Miley donned a pair of strappy black heels, a silver cuff bracelet, and an evening gown in two tones of black and lilac with silver embroidery and a thigh-high leg split.
Anne Hathaway
With sheer black tights, pointed platform boots, a tiny handbag, and matching sunglasses, Anne showed up wearing a structured minidress in black with croc embossing.
Pamela Anderson
Pamela Anderson sported an oversized coat with a sparkling black fringe, a matching skirt, a black turtleneck, slingback heels, a mini handbag, and sunglasses.
Dua Lipa
Dua wore a strappy, body-snugging black evening gown and pointed black shoes.
Lil Nas X
Nas wore a tank top with glistening silver fringe, a pleated skirt in black leather with crystal accents, a pair of knee-high black boots likewise embellished with dripping crystals, and a glossy black clutch.
Cher
Cher chose a navy body-hugging jumpsuit with a corseted bodice, a metallic blue bejewelled jacket, and matching platform stiletto boots.
Ariana DeBose
Ariana wearing a black, see-through, long-sleeved dress, a black bra and underwear set, and strappy heels.
Paris Hilton
Hilton showed up wearing a gleaming silver minidress, fingerless gloves, and silver pumps.
Gabrielle Union and Dwyane Wade
Gabrielle wore a black hooded midi dress with an abstract sequined pattern and a deep V-neckline. Wade wearing a pink double-breasted suit, black dress shoes, and gold accessories.
Published by HOLR Magazine