Car safety is a vital concern for everyone who travels on the road, but it is especially important for kids and pets. Kids are vulnerable passengers who need extra protection. Dogs, being man's best friend, also need to be transported properly. And every time we go on a trip together, it is our responsibility to make sure that all passengers, including kids and dogs, are secured while in the car.
So in this article, we will discuss the best ways to keep our little passengers safe on the road. We'll cover using the essential top car accessories and non-obvious tips to ensure that your loved ones are safe and sound. Whether you are driving across town or embarking on a long road trip, our article will help you keep your kids and dogs safe and secure in the car.
How Should a Dog Be in A Car?
Let's start with dog travel and give more attention to it since this topic is much less covered and is only now becoming actually taken into account.
When taking dogs into the car with them, many owners simply allow them to move freely: lie, sit, get down on the floor, or even be on the driver's lap. But it's really very unsafe, and there are certain rules about how pets should be transported in a car in the US.
First of all, your pet must be restrained. And to do that, you need a few pet accessories for car travel. But where to find the best ones?
If you need a recommendation, we suggest checking out the Owleys brand. They have top car accessories in US specifically for traveling with dogs and kids. On their website, you can find the accessories that we list below and we can personally recommend this brand as the best car accessories online store.
So, let's list the most essential pet accessories for car travel and discuss why they are a must-have.
When we get into the car, we fasten ourselves and our kids with seat belts. Our dogs must also be fastened – with a special pet seat belt.
This is a belt that attaches to your car's seat belt buckle at one end and your pet's harness at the other. Usually, such a belt is made of strong synthetic material, such as nylon, and restrains the dog firmly in one place. Some also have a bungee design which adds elasticity and therefore safety.
The use of these special seat belts is just as necessary as the use of our own car belts. In the event of sudden braking or an accident, there is a risk that your pet will be thrown through the window or be seriously injured inside the car. The seat belt keeps your tailed buddy restrained, minimizing risks in the event of a dangerous on-the-road situation.
Plus, dogs can often distract the driver, which is also unsafe. Some pets literally jump from seat to seat and may even sit on the driver's lap. And this must not be allowed!
The laws of some US states directly prohibit the transportation of unrestrained dogs in cars. Meanwhile, basically, ALL US animal transportation laws have a driver distraction clause. This clause prohibits dogs from being on the driver's lap or in the driver's seat. Ignoring this threatens not only with a fine, but also really endangers both your pet and yourself.
When securing a dog with a car seat belt, you should use a harness, not a collar – and this is very important. But why?
To minimize the possible risks from sharp tension on the seat belt, it is necessary to properly distribute the load on your dog's body. So, in the event of a strong pull during sudden braking or a collision, the harness distributes the load throughout the dog's body. At the same time, the collar is fixed only on the neck, so the entire load falls on your pet's neck. In the event of a car accident, such securing can lead to suffocation. That is why harnesses are essential pet accessories for car travel.
When choosing a harness for your pet, make sure the size fits perfectly. For maximum safety and comfort, the harness should not be too loose or too small. It is better to choose ones with an adjustable size so that you can customize the perfect fit.
Car seats are very popular among US pet owners and are considered the best car accessories for dogs. And there are several reasons for this.
Firstly, there are a variety of pet seats to choose from: dog beds, carriers, soft crates, booster seats, dog hammocks, and other types of seat covers. Secondly, they keep your pet comfortable and secure in one specific spot in the car. And thirdly, they protect your car from hair, stains, and scratches.
We'd also like to point out that dog car seats come in a variety of designs and can work as car organizer accessories – with handy pockets to store your furry passenger's belongings. So it's no wonder they are considered top car accessories to travel with dogs!
How Do Kids Play with Dogs? Safety Tips for Kids in Cars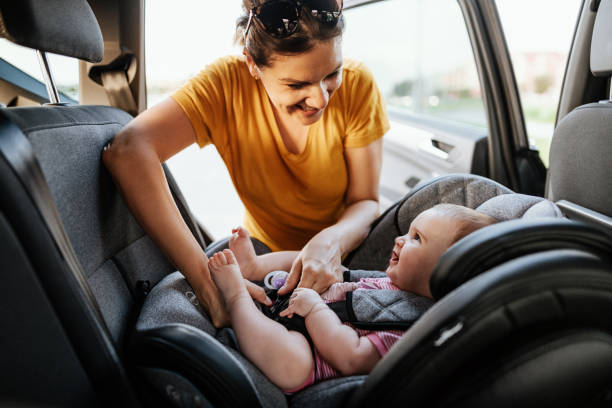 When it comes to family travel, what are the must have car accessories for kids?
To safely secure your kids in a car, you need a properly fitting car seat. On the market, you can find hundreds of options for kids of all ages. Depending on your kid's height and weight, get a car seat that best fits your little passenger and your vehicle.
Make sure you buy from a trusted and crash-tested US brand. Carefully check all manufacturer's recommendations and instructions for installation and use. This is really important, and for your kid's safety, you can't afford to miss a single detail.
If your child is already traveling without a special car seat, ensure that the seat belt is always fastened.
When going on a road trip across the US, make sure that you have everything for your kid at hand. An excellent solution here is to buy car organizer accessories. Car organizer accessories allow you to keep water and food for the kid right in touch, as well as medicines, diapers, and other essential things for baby care.
How can kids safely interact with dogs in one car? Can they play on the go together?
If both the kid and the dog are secured in the ways we listed, and still can play with each other – let them do it. We all want to experience joy and happiness when traveling with our loved ones. And if all security measures are observed, playing only becomes a pleasant addition to your family trip.
Thus, to ensure the safety of kids and dogs on the road, it is necessary to keep them properly secured. For dogs, you need a seat belt, harness, and a pet seat if needed. For kids, you need to find a car seat that is safe and suitable in size, and use a seat belt if your child is traveling without a seat. Take your time to find the top car accessories for the safety of your loved ones!
Published by HOLR Magazine.