Wimbledon 2022 made a victorious return. Bringing with it some fantastic tennis and, on the sidelines, some of the best celebrity fashion moments. Fans have also lined up and tuned in for the two-week tennis tournament, which had the first full IRL attendance since 2019.
Wimbledon is undoubtedly one of the most thrilling and fashionable events in the British social calendar, regardless matter whether you are a tennis fan or not. The annual tournament is the ideal time for celebrities to show off their Preppy Summer Outfits, which the All England Club has grown to be known for. The British royal family excels at the Wimbledon outfits, in particular, each of the Duchess of Cambridge's eye-catching midi dresses has garnered media attention. Holr has prepared a list of the top courtside outfits from Wimbledon 2022:
Rosie Huntington-Whitely
Rosie Huntington-Whitely looks stunning in a Ralph Lauren white column dress with square-toe mules. She added some glitz to Wimbledon by donning a skintight white dress with a flattering cut that showed off her legs. The model accessorized the elegant ensemble with a cream blazer draped over her shoulders and a pair of mules in the nude color.
Dustin Lance Black and Tom Daley
Dustin Lance Black and Tom Daley look amazing in color-blocking outfits. Tom Daley and his husband Dustin Lance Black made sure to draw attention to themselves by taking seats in the Royal Box on Centre Court. Tom, a 28-year-old Olympic diver, sported a lemon yellow suit, a spotless white shirt, and a pink and white tie-dye tie. Dustin, a 48-year-old American screenwriter, donned a blue suit with a white shirt. He chose a dark blue tie that was covered in a pattern of discs that were a lighter shade of the same color.
Anna Wintour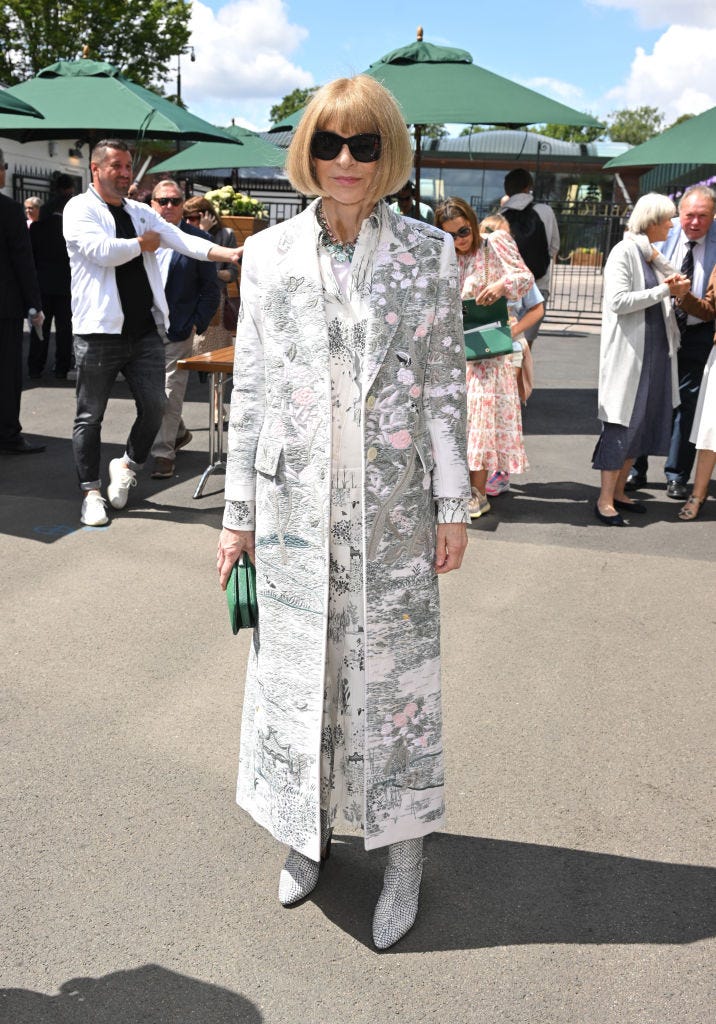 With this head-to-toe embroidered outfit, Vogue veteran Anna Wintour put a new twist on tennis whites, accessorized with her trademark shades. The 72-year-old Vogue editor-in-chief is well known for sitting courtside during matches, particularly when her close pals Serena Williams and Roger Federer are competing. The head of Vogue walked out wearing a long dress with a tree motif, a floor-length coat with embroidery.
Mel C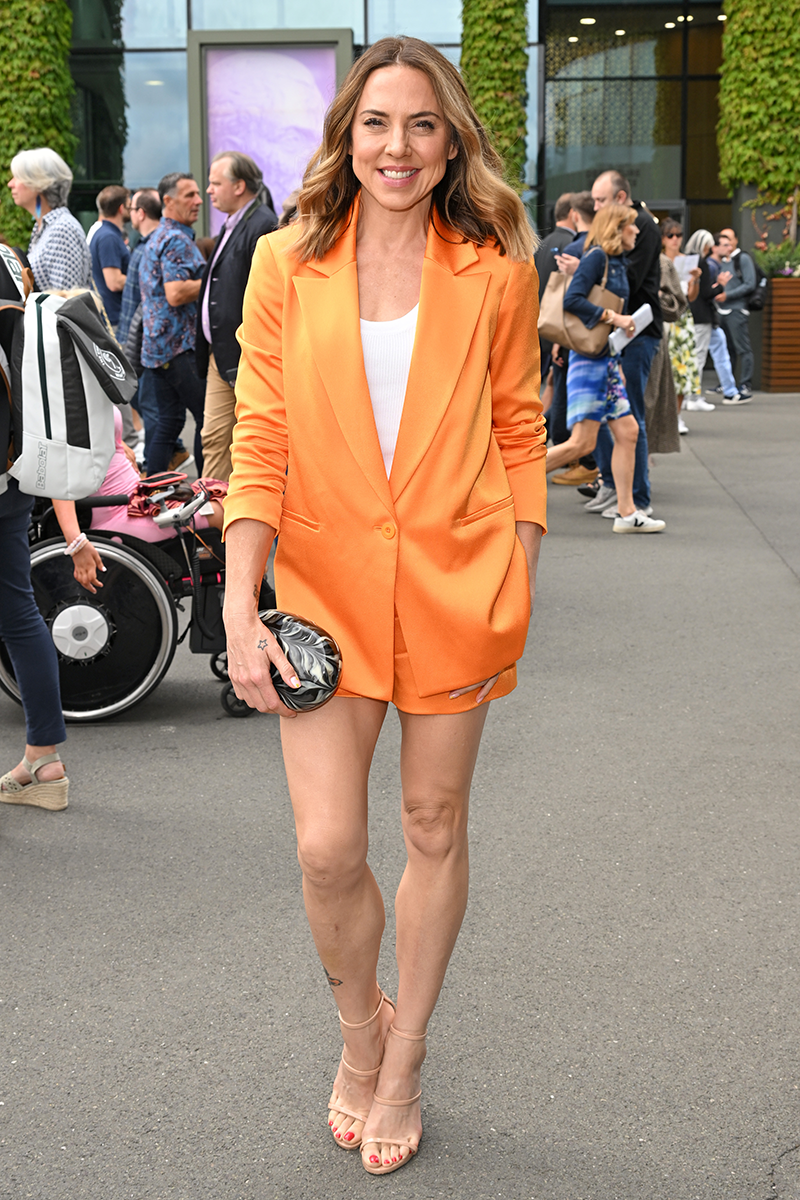 Mel C looks stunning in this tangerine-toned short suit. She visited day four of Wimbledon in London, showcasing her sophisticated sense of style. The 48-year-old Spice Girls actress put on a leggy display for the occasion by donning a pair of vivid orange shorts and a blazer that matched. The singer complemented the height she gave her body with open-toed beige shoes while also donning a low-cut shirt.
Poppy Delevigne
In this lemon sorbet-colored suit, Poppy Delevigne makes a strong argument for summer tailoring. The 36-year-old socialite stood out in the group because of her striking yellow blazer and matching pants. She carried a matching handbag through the grounds while heightening her appearance with a pair of beige heels. Poppy chose to wear a stunning pair of enormous spectacles over a soft glam makeup look.
Kate Middleton
At the Men's Singles Final trophy ceremony, Kate Middleton looks stunning in a polka-dot Alessandra Rich dress. The brand's ready-to-wear collection's 1980s-inspired dark navy blue design has a wide cut collar, peplum waist detail, and silk tie in the same spotted fabric. The duchess wore this dress with the same Alessandra Rich slingback shoes she wore on her first visit to Wimbledon in 2022, and she accessorized with blue sapphire and diamond jewelry that she has worn frequently this year and that complemented Princess Diana's sapphire and diamond engagement ring.
Marvin and Rochelle Humes
In matching monotone, Marvin and Rochelle Humes prove they're one of THE most gorgeous couples to know. Marvin Humes and Rochelle were photographed beneath an official Wimbledon umbrella. The former member of The Saturdays looked amazing in a black halterneck two-piece with a chic blazer placed on her shoulders. Marvin, the husband, looked equally stunning in a light grey suit jacket over a fresh white polo shirt. Apart from the bag, the 33-year-attire old's is considered to be from Next, considering the former S Club Junior and The Saturdays singer's connection with the brand.
Amanda Holden and Lexi Hughes
In these matched outfits, Amanda Holden and Lexi Hughes are mother/daughter fashion goals. The broadcaster wore an all-white ensemble with a crop top and a sophisticated shirt tucked into her A-line skirt. The final touches to Amanda's attire, however, deserved all the attention, as she was seen carrying a tennis ball handbag.
Lexi matched her mother's eccentric accessory with a green oversized suit and a white crop, looking every inch at the aspiring model. The only difference between the two is that whereas Amanda wore her hair straight and free, Lexi opted for a slick back look with her hair scraped into a tight bun, which she completed with a pair of shades.
Published by HOLR Magazine