Born and raised in Oakville, Ontario, Amalia Williamson is the oldest sibling in both real life and her life as Maddie West, the character she portrays in Netflix and CBC's newest drama, Northern Rescue.
Maddie West is the angsty, moody 16-year-old sister trying to cope with the loss of her mother, the burden of hidden secrets, and her family's relocation from their city life to the small northern town where her father and mother grew up.
Amalia Williamson is the girl-next-door. She's a beauty guru, and the fun, sweet, and sassy big sister with a big heart. She brings to life Maddie, portraying perfectly the difficulties of being a teenager just trying to make their way in the world.
Like Maddie, Amalia understands the importance of family and her role as the eldest bringing in aspects of herself into her character's personality.
"Bringing the love in to this character was easy," Amalia explains, "when you have siblings you have a responsibility to protect them–you'd do anything for them and you just want to because you know they're young and impressionable like I was when I was their age. This character, although going through something I couldn't even imagine–the loss of her mom–is still the oldest sibling and loves her younger brother and sister completely."
"The sibling banter was easy too," she notes. "The little argument scenes felt natural because Taylor, my little sister in the show, is the same age as my little sister Samantha." You can hear the warmth in her voice. "They're the same person so when I was arguing with Taylor it felt just like I was arguing with Sam."
Northern Rescue is Amalia's first prime-time lead role.
"I cried," she says when I ask her about the day she was cast as Maddie.
"I remember talking back and forth with my agent in a Canadian Tire when it wasn't 100% guaranteed. I got the call when I got home and just cried of happiness and excitement."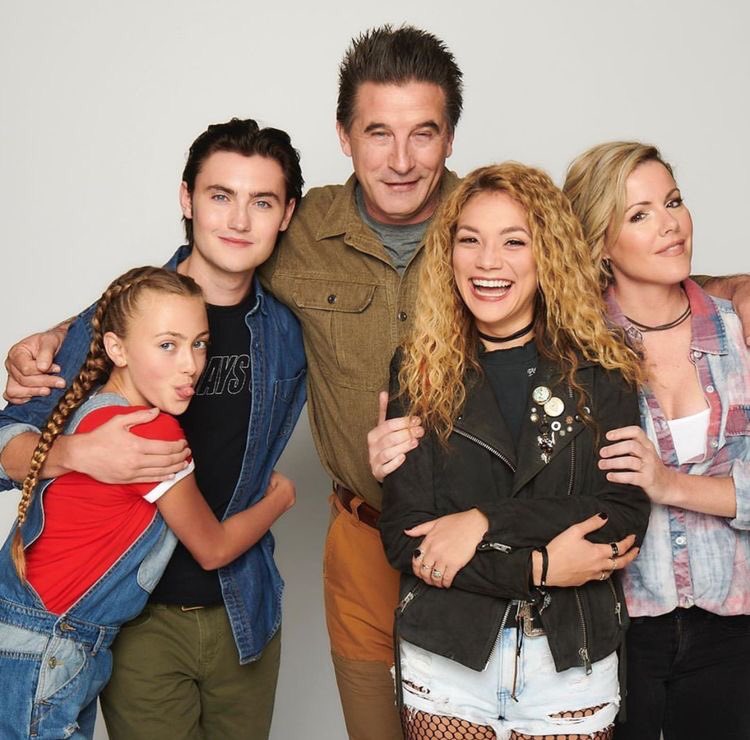 She recalls being the first family member on set for the first few days. "It was just me and my therapist there shooting those scenes… oh, I don't know if that might be a spoiler," she laughs. "It was just an amazing experience and the whole cast and crew was amazing. I remember we also had a shaman come in and bless the set–it was such a cute, authentic, fantastic way to start the whole season."
Maddie is emotional, heavy, and moody. She is 16, she is starting at a new school in a new town, and she is dealing with one of the hardest losses anyone could ever experience.
"When I first got the audition and read the script I started tearing up right away. I am so close to my mom and the scene I was reading was one where I was arguing with my mom in the series before she died. I say horrible things to her and we're yelling and screaming and the emotional reaction I got from it made me know I had to play her."
I ask if it was difficult to get back into an angsty, moody 16-year-old mind-frame and she jokes back, "I'm still moody."
"Once you're playing a character every single day and working with other amazing actors it really helps."
Teenage years can be difficult for so many teens. It's the years you're only beginning to discover who you are and are dealing with the drama that comes along with that. Amalia is 24 years old and so I ask: if you could go back in time and tell your 16 year old self anything–any advice any warnings, anything–what would that be?
"Oh, that's a good one." She pauses to think. "Wow. I guess I'd say to just keep going. To continue reaching for your dreams–and to start acting classes earlier!"
The new drama also stars William Baldwin as John West, the dad and recent widower.
"At first I was scared," she recounts about the first time she met William. "I had no idea what he would be like–no idea. He was the 2nd family member to arrive and the first day he and I worked together on set my grandma was there. He was just hanging out with us and was so sweet. My grandma was just beaming!"
Speaking of the Baldwins, William's brother, Alec Baldwin teased Northern Rescue on his Instagram and Amalia is the title image on his Instagram feed.
"It was weird!" She laughs. "I woke up, saw it, and thought this is so cool–I showed my dad and was just like, LOOK! But," she beams, "as much as I think Alec is an unbelievably great actor, I think Billy is on the up and up and the one to watch–he's just so amazing!"
Before I let her go to continue her exciting day of press, I had to ask the beautiful actress for any beauty tips!
"I'm obsessed with makeup–OMG!" I could hear her admiration for the makeup and beauty industry just in her tone. "I love highlighter and blush right now; I can't leave the house without a little highlight from Anastasia Beverly Hills and Charlotte Tilbury blush–they're so pretty. My tried and true mascara is the L'Oréal Double Extend Mascara, it NEVER runs and always holds it's shape." 
NORTHERN RESCUE airs March 1st exclusively on CBC Gem in Canada and on Netflix internationally.