The Met Gala, also known as the Costume Institute Gala, is a fundraising event that salutes the opening of a new fashion exhibition each year at the Metropolitan Museum.  Fondly referred to as "fashion's biggest night out," the Met Gala gives its exclusive elite guest list – actors, musicians, celebrities, young creatives – a global platform to push fashion boundaries, challenge norms and celebrate the unusual!
header photo via The Vox 
Last night's theme was "Camp: Notes on Fashion," or in other words, "exaggerated fashion," so don't expect to see any tents, sleeping bags or outdoor frolicking on this list – maybe next year!  Instead, the pink "red carpet" (yes, pink!) was filled with bright, electric colours, outlandish silhouettes and intricate embellishment; attendees taking advantage of the "Camp" theme to experiment and reveal their creativity.  With these 7 iconic looks from the night, there is no doubt that it paid off!
LADY GAGA (Brandon Maxwell)
Kicking off the night, singer Lady Gaga and one of the event's co-hosts, made her grand entrance in an extravagant pink gown – the first of FOUR outfit changes!  She surprised us all when she took off her first look to reveal a black strapless dress paired with an umbrella. For her third outfit change, she wore a form-fitting hot pink dress accessorized with studded sunglasses.  Ditching the dresses for her final look, Gaga rocked shimmery underwear, fishnets and huge platform shoes. And that is how "Camp Fashion" is done!
KENDALL & KYLIE JENNER (Versace)
Talk about the ultimate twinning moment!  The sister-duo turned heads at last night's Met Gala in complementary bright feathered "Vegas showgirl" dresses; Kendall opting for a tangy orange and Kylie a soft lavender that perfectly matched her wig.
SAOIRSE RONAN (Gucci)
Actress Saoirse Ronan dressed for an epic fashion battle on the red carpet when she arrived in this stunning red sequined and armor-inspired gown.  With its green and silver neckline and structured shoulder pads of golden dragons, Ronan's next-level look revealed her inner warrior – Slay, girl, slay!
CELINE DION (Oscar de la Renta)
Singer Celine Dion dazzled us in this ensemble inspired by the glamorous costumes of The Ziegfeld Follies (Judy Garland would be proud!)  But, the hand-beaded look, weighing over 22 pounds, was no easy task – it took over 3000 hours to make with 52 embroiderers working on it!  "I'm never going to take it off," Dion said.
LUPITA NYONG'O (Versace)
When it comes to colourful outfits, actress Nyong'o is not one to shy away, and last night's look was certainly proof of this!  Nyong'o brightened up the red carpet in this rainbow gown and matching rainbow folding fan, instantly lifting our moods. Add in a few gold combs and embellished stars, along with bold ruffled shoulders and that is what we call "Camp!" Cue in applause.
GIGI HADID (Michael Kors)
The model took the Met Gala by storm with an all-white jumpsuit covered in silver and gold sequins and matching jacket decorated with white feathers, channeling an ice queen.  The entire look was completed with big white false eyelashes, and of course, a custom headpiece made by Stephen Jones – Watch out Elsa, there's a new ice queen in town!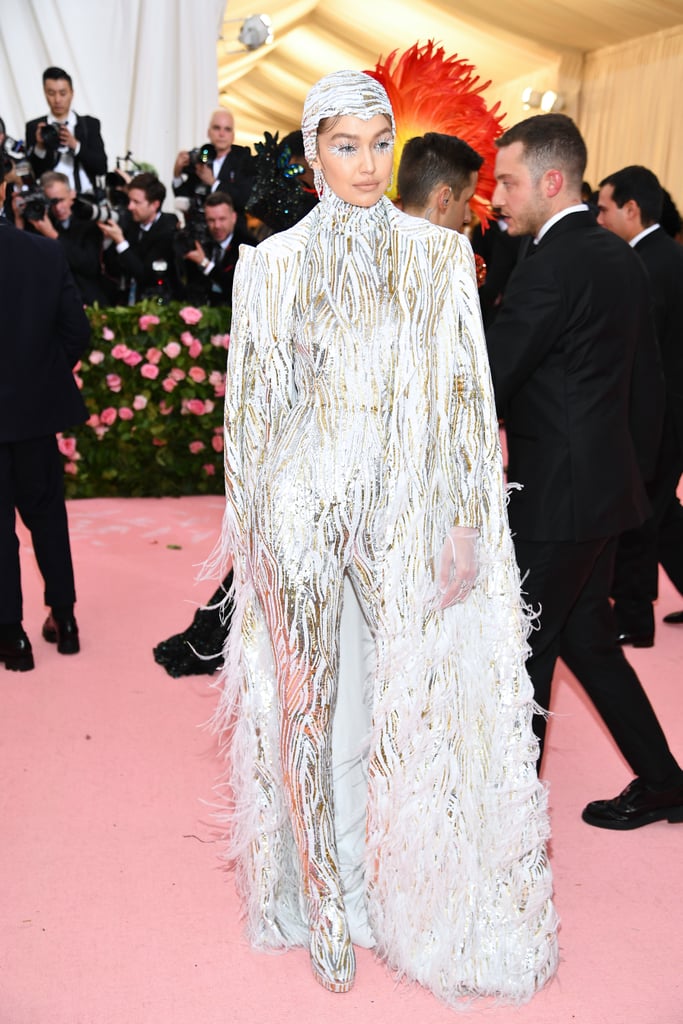 BILLY PORTER (The Blonds)
If you thought Lady Gaga made a fabulous entrance, well, think again!  Actor Billy Porter shut down the Met Gala red carpet with his dramatic nod to Cleopatra as he arrived on a litter, carried by a group of shirtless men.  It gets better. He then made his outfit reveal with this eye-catching golden catsuit, equipped with 10-foot wings and accessorized with a 24-karat gold headpiece!  
What were your favourite looks from the Met Gala 2019? 
For the latest in fashion and culture, follow us @HOLRMagazine.