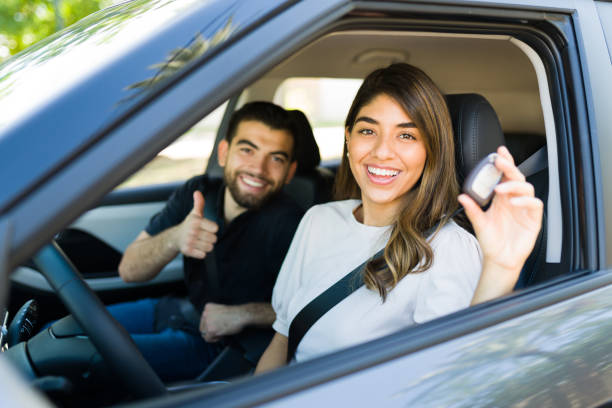 When you're a young adult just starting in the world, one of the most significant decisions you have to make is what car to buy. It's a considerable investment, and you want to ensure you choose the right vehicle for your needs. To help you with this topic, we will discuss some of the best first cars for young adults. We'll cover a variety of different vehicles, so you can find the perfect fit for your lifestyle and budget. So if you're looking for your first set of wheels, read on for some great recommendations.
Here are some great cars to consider as your first vehicle:
1. Kia Cerato
The Kia Cerato is an excellent choice for first-time car owners. Its recent improvements in safety, connectivity and fuel efficiency make this an attractive vehicle that can put you ahead of the competition. The Cerato not only provides an environment of security while on the road, but it also offers stellar efficiency so that you don't have to worry about spending a fortune at the pump. With modern features such as hands-free calling and GPS navigation, this is indeed one of the best first cars available today.
2. Honda Civic
The Honda Civic has long been one of the best cars on the market. Not only is it reliable, efficient and affordable to maintain, but it's also great as a first car for many young drivers today. Many new Civics come with a bunch of cool features like Apple CarPlay, heated seats and even push-to-start ignition. It is perfect for those who are used to the latest technology! Best of all, you can often find them used for reasonable prices, so you don't have to break the bank when you're just starting out. Of course, no matter which route you go with your first car purchase, safety should always be a top priority. That's where the Honda Civic really shines with its state-of-the-art safety features.
3. Toyota Corolla
The Toyota Corolla is undoubtedly one of the best first cars money can buy. It's a reliable ride that has proven its worth and value over the years, making it an excellent choice for those looking for their first car. Its design ensures not only practicality with its advanced safety features but also comfort and confidence in knowing you're driving a dependable vehicle. Aside from that, it is known to have good fuel efficiency and stunning modern features such as an intuitive infotainment system with touch-screen controls and voice function. All these features will make your driving experience effortless and enjoyable – indeed, an ideal starter car.
4. Mazda 3
The Mazda3 is an awesome choice for first-time drivers. It strikes the perfect balance between performance and comfort, thanks to its quick acceleration, responsive handling, and smooth ride quality. Best of all, its beautiful cabin showcases premium materials and a user-friendly infotainment setup that won't leave you feeling overwhelmed. In other words, it offers the perfect combination of style, functionality, and reliability – what more could you want in the best first car?
5. Subaru Impreza
The Mazda 3 is an amazing option if you're looking for the best first car. It has plenty of get-up-and-go, impressive fuel economy and some genuinely remarkable safety features. So whether you're in the market for an economical commuter car or a fun weekend ride, the Mazda 3 offers plenty of power and styling to keep you feeling great every time out. Best of all, its sporty nature makes it reliable and easy to drive, so you'll feel safe both on crowded city roads and winding backcountry trails.
6. Hyundai i10
The Hyundai i10 has been touted as one of the best first cars for young drivers. Not only is the car affordable, but its size makes it easier to maneuver around town, and the carbon emissions are low. Best of all, with a plethora of tech features freshly integrated into its sleek body. It's basically an intelligent vehicle within a budget. From wireless Bluetooth streaming capability to voice recognition software, your teenager might end up loving this vehicle more than you do. This is an excellent choice for people who are looking to make a statement while still being mindful of their budget.
Conclusion
Picking the best first car is not an easy task, as there are so many great options out there. From efficient sedans to stylish hatchbacks, each car offers its own unique set of features and benefits. So whether you're looking for a reliable commuter or an affordable starter car, rest assured that with the right research, you'll find the perfect car for you or your teen. With these suggestions in mind, it should be easier to make the right choice and hit the road in style.
Published by HOLR Magazine.